Does Obama prove US is colorblind?

Updated: 2008-01-07 07:09
US Senator Barack Obama's convincing win in Thursday's caucuses in Iowa - a state with just a smattering of minority voters - demonstrated his support crosses racial lines and supported the idea that America is receptive to electing its first black president.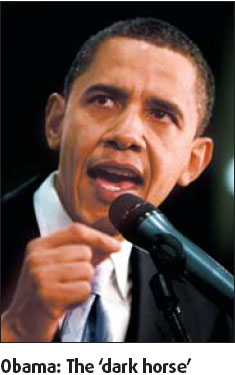 Whether his appeal stretches beyond that Midwestern state will become clear over the next month as the freshman senator faces a series of tests on different political terrain - beginning with tomorrow's primary in New Hampshire, another overwhelmingly white state.
But for North Carolina voter Ray Ballentine, who had been wavering between Obama and Senator Hillary Rodham Clinton, Iowa was a tipping point. Like many black voters, he said, he was looking for proof that Obama could get white support. Yet he wonders if the rest of the nation is as willing as Iowa to embrace the idea of a black president.
"I'm not really sure if they're ready, you know," he said. "I think it's time. He's speaking about change, and certainly that would be a change for this country. A change for the world."
Polls have indicated the vast majority of Americans say they would support a black candidate seeking the White House. A Gallup survey conducted in early 2007 found only 6 percent of men and 5 percent of women said they would not vote for a black presidential candidate - a seismic political shift from 50 years ago, when more than half those surveyed felt that way.
Though Obama's win captured headlines and gave his campaign fresh credibility, he is not the first black candidate to win in a Democratic presidential contest.
In 1988, civil rights leader Jesse Jackson, making his second bid for the White House, piled up Democratic primary wins in Alabama, Georgia, Louisiana, Mississippi, Virginia and the District of Columbia along with caucus victories in South Carolina and Michigan.
'Happens to be black '
But Obama's roots and resume - as well as his campaign - are unlike other black candidates who have run for president. The son of a father from Kenya and a mother from Kansas, Obama was just a child during the dawn of the civil rights movement, grew up in Hawaii and Indonesia and has not made race the centerpiece of his candidacy.
"Obama is running in a way that a lot of white voters feel very sympathetic," said Merle Black, an Emory University political scientist. "He doesn't make them feel guilty. He's not running a Jesse Jackson campaign or an Al Sharpton campaign. He's positioned himself to be a candidate who happens to be black, rather than a black candidate."
For some voters watching Obama, his campaign - and his Iowa success - are simply reflections of changing times.
"America's becoming more open-minded," said Mark Jambretz, a 36-year-old sales director at an Internet company in San Francisco. "I as a Republican can say that, and we need to open our eyes to people representing all ethnicities."
Still, he said he could envision some "radical groups" taking violent steps against a black candidate or president.
Agencies
(China Daily 01/07/2008 page6)