Guangdong seeks help to curb road deaths
By Zheng Caixiong
Updated: 2008-01-03 07:22
GUANGZHOU: Guangdong Province is looking for lessons from abroad in its fight to prevent traffic accidents and thereby curb the number of road deaths in the years ahead.
And the stakes are high - the province leads the nation in fatal traffic accidents. One tenth of all deadly collisions in China have happened in Guangdong since 2002.
Officials said they are combing the globe for effective traffic management measures in the hope of reducing the carnage.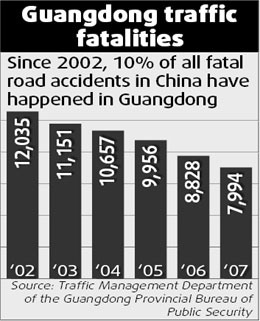 Wen Rongfang, deputy director of the traffic management department under the provincial bureau of public security, said the department will do more to promote the use of seatbelts.
"Fastening one's seatbelt while driving is an effective way to reduce the number of deaths and injuries in traffic accidents. It has been proven in the United States and many other countries," Wen told a press conference yesterday.
He said it has been estimated that seatbelts had reduced the number of fatalities caused by road accidents by 60 percent in many foreign countries.
"But many local drivers still refuse to fasten their safety belts while driving, despite the great efforts that have been made to promote their use," he said.
Guangdong has achieved some progress in curbing traffic accidents and the number of resulting casualties, but the figures are still daunting.
Last year, 7,994 people died and 55,566 were injured in 46,558 traffic accidents in the province. The figures represent year-on-year declines of 9.5 percent, 17.9 percent and 17.2 percent, respectively.
In 2002, 12,035 were killed in road accidents in Guangdong.
In addition, the province will invest more in traffic management technology in the coming years, Wen said.
Electronic sensors and other advanced equipment will be installed along major highways to help curb speeding, overloading and other driving hazards.
The province had spent more than 1 billion yuan ($137 million) on highway safety in the past two years.
(China Daily 01/03/2008 page5)