Bow to Confucius ends Fukuda visit
By Li Fei
Updated: 2007-12-31 07:21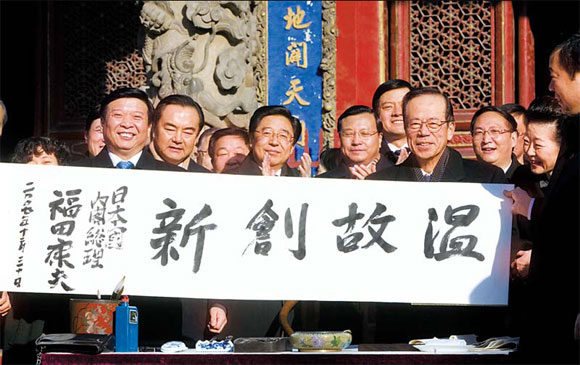 Japanese Prime Minister Yasuo Fukuda (fifth from right) stands behind his calligraphy in Confucius's hometown of Qufu, Shandong Province, yesterday. Vice-Foreign Minister Wang Yi (fourth from left) was present too. The four Chinese characters wen gu chuang xin mean "innovating through reviewing old knowledge". The term probably comes from Confucius' teaching of wen gu zhi xin, which urges people to acquire new knowledge by pondering over the old. AP
QUFU, Shandong: Japanese Prime Minister Yasuo Fukuda wrapped up his "spring-heralding" visit to China yesterday, bowing in front of Confucius' statue and calling for greater cooperation between the two countries.
Fukuda and his wife Kiyoko visited the Temple of Confucius in Qufu, a UNESCO World Heritage site. The city in Shandong Province is the birthplace of the ancient Chinese philosopher, who is revered both in China and Japan. The couple watched a traditional Confucian dance, too, during their one-hour stay at the temple.
"The visit to the temple has left a deep impression on me," Fukuda told reporters later. "The ancient philosopher's teachings are still alive in Japan and other parts of the world. I felt like I was visiting the past for renewal," Fukuda said.
Describing his four-day official visit to China as "very meaningful and substantive", Fukuda said he hoped to use it as an opportunity to further promote exchanges and cooperation between the neighboring countries.
"I have talked with Chinese leaders and agreed (with them) that Japan and China can do more if they cooperate," said Fukuda, who was accompanied by Vice-Foreign Minister Wang Yi.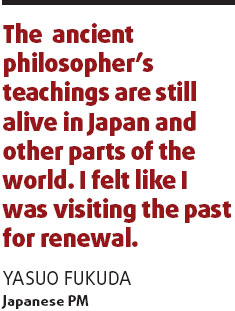 The Japanese prime minister wrote four Chinese characters, wen gu chuang xin, which literally mean "innovating through reviewing old knowledge", in the temple visitors' book. The term is probably inspired by Confucius' teaching of wen gu zhi xin, which urges people to acquire new knowledge by pondering over the old.
"Visiting Qufu, where Confucius grew up and (from where he) spread his teachings, I thought I had truly reached the starting point of culture 2,500 years ago," Fukuda said.
To honor his visit, the local government presented Fukuda with a wood sculpture of Confucius.
The 71-year-old Japanese prime minister was "very humble and amicable", said Fukuda's Chinese tour guide to the Confucius Temple Kong Fanpeng. That greatly helped eased Kong's nerves.
"I think he (Fukuda) has a strong interest in traditional Chinese culture, especially Confucianism, for he not only listened attentively to my introduction, but also raised many questions," said Kong.
A day before his Qufu tour, Fukuda indulged in a round of "baseball diplomacy" with Premier Wen Jiabao in a Beijing gymnasium. During the genial five-minute pitching, Wen sported the same Japanese university tracksuit he had worn when he played baseball in Japan in April. Fukuda wore a white shirt and a red cap.
Xinhua contributed to the story
(China Daily 12/31/2007 page1)