Pollution victims get protection
Water pollution victims will find it much easier to win compensation through class actions if a draft law amendment is adopted by the nation's top legislature.
The second draft amendment to the Water Pollution Prevention and Control Law, which is now being deliberated by the National People's Congress (NPC) Standing Committee, contains an additional stipulation that water pollution victims can seek civil compensation directly from polluters.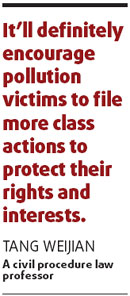 If there are a large number of victims, the draft states, they can file class actions, a lawsuit brought by one or more plaintiffs on behalf of a large group bound by a common wrong.

Today's Top News
Editor's picks
Most Viewed