Hunan city cluster to be green test bed
By Wang Yaoqiang in Changsha and Wang Shanshan in Beijing
Updated: 2007-12-17 07:17
A cluster of three cities in Hunan Province has been marked as an experimental zone for energy saving and environmentally friendly programs.
The three neighboring cities of Changsha, Zhuzhou and Xiangtan will form the zone in the home province of Mao Zedong, New China's founding father, said Hunan Governor Zhou Qiang yesterday.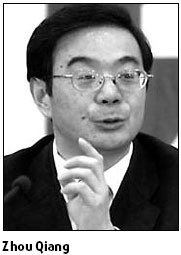 Mao was born on December 26, 1893, in a village called Shaoshan in Xiangtan County, Hunan. He died on September 9, 1976.       
"The 70 million people in Hunan have the reputation of always being the first to try something new We are honored that our cities will become the country's experimental field in transforming its mode of development," Zhou told the press in the provincial capital of Changsha.
Besides the city cluster in Hunan, the State Council has also approved Wuhan, the provincial capital of Hubei, as an experimental zone for energy-saving and environmentally friendly reforms.
China has had six experimental zones so far, starting with Shanghai's Pudong New District in 2005.
Zhou said the three cities in Hunan were chosen because they were part of the country's long-time industrial base, where the lack of resources as well as environmental pollution have served to impede their development.
Meanwhile, their locations offer them the chance to be a "pivot", he said, in the nation's planned "rise of Central China" - a national strategy to boost the economies in the central part of China, which includes Hunan, Hubei and Henan provinces.
Zhou said that the provincial government will help the three cities build energy-saving, environmentally friendly industries, and make them more beautiful and livable.
Changsha will coordinate with its partner cities in sectors including infrastructure construction, pollution treatment and energy supply, said its mayor Zhang Jianfei yesterday.
Zhuzhou will protect its farmland and build leisure industries while strengthening efforts to improve the environment, said its mayor Chen Junwen.
Xiangtan will encourage the development of its hi-tech industries and make better use of its "cultural resources" - being the hometown of revolutionary leaders like Mao, said its mayor Yu Aiguo.
The three cities have long been the engines of Hunan's economy. They contributed 37.6 percent of the provincial GDP last year, and they hold 19.2 percent of the province's population.                              
(China Daily 12/17/2007 page3)