That girl's Scot talent
By Viva Goldner
Updated: 2007-12-14 07:08
The Scottish song Auld Lang Syne is an odd choice to have gained currency in China, given it is so archaic that even native English speakers find it inaccessible. Yet for Scottish harp player Katie Targett-Adams, the New Year's ballad embodies a unique link between China and Scotland that goes some way to explaining how she became a sensation here.
Since her mainland debut at the 2003 International Folk Arts Festival in Nanning, South China's Guangxi Zhuang Autonomous Region, Targett-Adams has found her niche, simultaneously plucking the strings of her clasarch, or Celtic harp, with the heartstrings of a captivated Chinese public.
The musician plays to audiences of thousands at venues around China, including a full house at Beijing's Forbidden City Concert Hall. She sings both traditional tunes and original works, and believes her popularity is connected to similarities between the folk songs of China and Scotland, which use the pentatonic or five-note scale.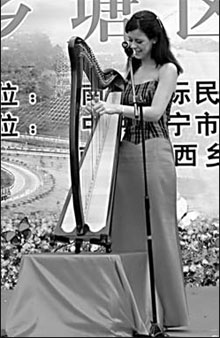 Katie Targett-Adams plays clasarch, or Celtic harp, in Nanning, South China's Guangxi Zhuang Autonomous Region.
"Maybe that's why you so often hear the Scottish song, Auld Lang Syne, playing across China. In my experience, the blend of harp and song also appeals to the romantic side of the Chinese people," Targett-Adams says.
The sassy 28-year-old singer/songwriter - who has been compared to a fairy, an angel and a mermaid during performances - is now based in Hong Kong, having relocated from Edinburgh in late September in order to be closer to her huge Asian fan base.
"China has been calling me back in each of the last five years, and it felt as if now was the right time to make the move, especially with such an exciting historical year ahead. Hong Kong is the perfect base from which to travel around Asia and I love the buzz of the city," Targett-Adams says.
Her star has continued to rise since the move, with such varied gigs as the Shanghai Grand Prix in October, and a concert in Macao this month that she describes as, "a fantastical Cirque du Soleil-style show". She has sung from the top of one of Hong Kong's tallest skyscrapers, along Shanghai's Bund, and by the Green Lake in Kunming, and is also a qualified teacher of the UK dance phenomenon, Ceroc. And in a nod to her new home, the crossover artist included a Chinese pop song on her recently released fourth CD, Hush Hush.
"China has become a part of my identity and of my music now, so to me it seemed quite a natural thing - even though it may baffle some listeners in other parts of the world," she says.
Targett-Adams was singing at a Scottish castle when a Chinese cultural ambassador invited her to perform at Nanning. "I was so delighted to be asked and only remember jumping up and down with joy in Scotland," she recalls. "Nothing could prepare me for the wonderful reception of the warm-hearted Chinese people when I first arrived."
Targett-Adams has toured America, France, Spain and Germany. But in China, she was overwhelmed by an audience of 10,000, screaming her name and tracing "I love you" in the air with glow sticks. Today, her concerts pull crowds of up to 35,000.
"It is like riding a roller coaster. At first you feel daunted, then exhilarated, then plain scared. Suddenly you realize you are actually having the time of your life and then you want to repeat it all over again," she says.
Targett-Adams has given some six or seven concerts in the Chinese capital, including one at the cultural centerpiece of the Forbidden City.
"Shamefully, I have never managed to take a proper tour of the Forbidden City itself as my time is always filled with sound checks and rehearsals before flying out to the next destination. I was tempted to cut rehearsals short when I performed at the Concert Hall," she says.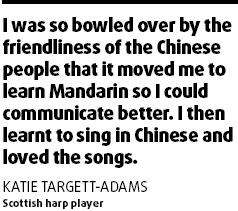 "However, it was such an honor to give a solo concert there, I decided I really had to stay put to give the best show I could. I had been warned that the audience would probably talk through my performance, especially as it was a full house, but eerily everyone was absolutely quiet during the show. I'm told that was a good sign!"
Blessed with her model mother's height and striking looks, Targett-Adams first played the clasarch as a 10-year-old, at the Edinburgh International Harp Festival. Spurred by "a love for languages", the confident young woman commenced studies in Spanish and German at Oxford University in 1997, before deciding to focus on music professionally when she graduated.
"My university years instilled in me the desire to communicate with people wherever I am. That's one reason why I think music, which had always been my hobby, became my career - even if you and your audience cannot communicate with words, music will always be the global language," Targett-Adams says.
In 2001, she played in Washington for the Scottish tourism board, and returned to the United States the following year, performing at New York's Tartan Day celebrations.
Back in Scotland, her career flourished. She played for the Queen at the opening of the Scottish Parliament, and was made an ambassador for the Prince's Trust. She has been a repeat performer at the Edinburgh Fringe Festival, and in 2003 was named a Music and Culture Icon of Scotland.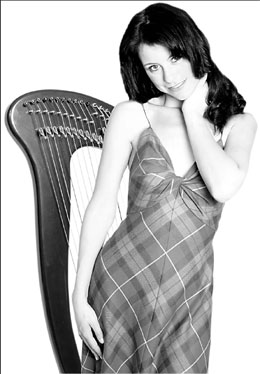 The 28-year-old singer/songwriter has been compared to a fairy, an angel and a mermaid during performances. Courtesy of Katie Targett-Adams
Depending on her audience, Targett-Adams sings in a variety of languages, including Gaelic, Japanese and Mandarin - her most recent linguistic achievement. Learning the Chinese language brought Targett-Adams a deeper affinity with the history of local folk music, as well as an appreciation of the cultural emphasis on traditional music and dance.
"I was so bowled over by the friendliness of the Chinese people that it moved me to learn Mandarin so I could communicate better. I then learnt to sing in Chinese and loved the songs. I realized too that you can learn so much about a culture through language and song."
She found out that China and Scotland share the same five-note scale in their folk songs. She also realized that many people in China love to sing Auld Lang Syne - a song written by the Scottish poet, Robert Burns, in the 18th century.
Targett-Adams has described performing in China as "a real bonding experience", where the audience will often sing along. She also relishes the chance to share part of her own Celtic heritage.
"The crowds always seem genuinely surprised and appreciative when you make the effort to speak Mandarin, which I find is hugely motivational," she says.
Targett-Adams' focus is now on the 2008 Games. While her bid to become an expat torchbearer did not make the final cut, her sights are set on the Olympic stage.
"With the Games traveling to London after Beijing, I would love to be a cultural link between the two, appearing in the closing ceremony in Beijing and the opening ceremony in London," she says.
Targett-Adams will perform at Madison's restaurant Hong Kong on Christmas Eve.
(China Daily 12/14/2007 page20)