CPI soars to 11-year high of 6.9%
Inflation soared to an 11-year high of 6.9 percent in November, triggering speculation of more tightening measures by the central bank.
The National Bureau of Statistics, which releases the figure, also forecast that annual inflation is poised to surpass 4.7 percent, the highest since 1996, well above the previously set benchmark of 3 percent.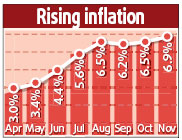 The consumer price index (CPI), a key gauge of inflation, gained a decade-high 6.5 percent in October.

Today's Top News
Editor's picks
Most Viewed