Venezuelans vote on 'Chavez for life'

Updated: 2007-12-03 07:46
Venezuelans voted in a tightly contested referendum yesterday on whether to allow left-wing President Hugo Chavez to stay in power for as long as he keeps winning elections or hand him his first defeat at the polls.
The anti-American firebrand, who has easily won one election after another against a fragmented opposition, is in the hardest campaign of his life as he moves to deepen his self-styled revolution by reforming the constitution.
He predicts he will win by 10 percentage points but most polls show a neck-and-neck race between backers of the referendum.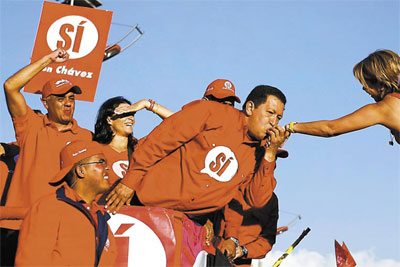 Venezuelan President Hugo Chavez (center) kisses the hand of a supporter as he arrives at a rally in Caracas on Friday. Reuters
"It's dangerous," said one "No" voter who identified herself as Victoria as she waited in line at a polling station in an upscale anti-Chavez neighborhood in the sunny capital.
A man standing nearby who declined to give his name said he voted "Yes" to back the president's effort at cracking down on tax evasion by rich Venezuelans and corporations.
With campaigning marred by violence, many Venezuelans fear political turbulence in the OPEC member nation if the losing side refuses to accept the results of yesterday's vote. Early reports indicated that voting was orderly.
Faced with concerns from even moderate supporters that the reforms will give Chavez too much power, he has tried to portray the vote as a plebiscite on his rule.
The former paratrooper, who has led Venezuela since 1999 and is a close ally of Cuba and Iran, also has escalated his verbal attacks on the US government and opponents at home to rally followers behind him.
"Whoever votes 'Yes' is voting for Chavez and whoever votes 'No' is voting for George W. Bush, president of the United States," Chavez told supporters at a massive rally in Caracas on Friday.
A "Yes" vote would scrap limits on how long Chavez can rule as president and he has said he will stay on for decades if Venezuelans keep voting for him.
The reforms also would give him control over the central bank and foreign currency reserves bloated by high oil export revenues, reduce the workday to six hours and extend social security benefits to informal workers like street vendors.
Chavez, 53, leads a growing anti-US bloc in South America and his leftist allies in Ecuador and Bolivia also are trying to use constitutional rewrites to increase presidential powers and extend state control of energy resources.
Agencies
(China Daily 12/03/2007 page7)