Rio Tinto may sell $30b of assets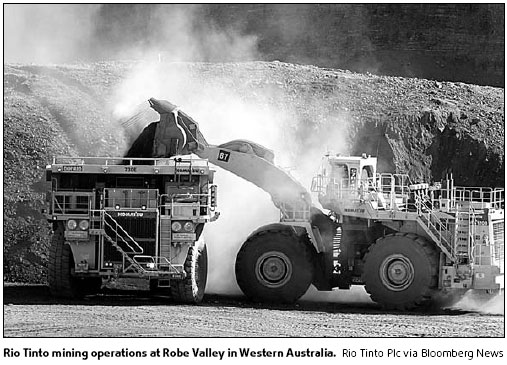 Rio Tinto Ltd, the world's third- largest mining company, will boost dividends 30 percent and has identified a possible $30 billion of asset sales as it battles an unsolicited takeover approach from BHP Billiton Ltd.
"The value in Rio Tinto is yet to be fully reflected by the market," London-based Rio Tinto's Chief Executive Officer Tom Albanese said in briefing notes to analysts yesterday. "We have a better growth pipeline than our competitors."
Rio's rejection of BHP's $128 billion all-share offer as being too low has spurred speculation of further bids. Rio, whose London stock has gained 23 percent since the November 8 approach, hasn't spoken with other potential suitors, Albanese said .
"They are trying to defend their turf and ensure they are in a better position for when the eventual discussion takes place for the groups to merge," Paul Xiradis, who helps manage about A$13 billion ($11.5 million) in Australian stocks at Ausbil Dexia, said in Sydney by phone. "They were very bullish and were not guarded at all given BHP has expressed interest in them."
Melbourne-based BHP has fallen 11 percent in Sydney since announcing its bid. Rio rose by A$9.60, or 7.5 percent to A$138.00 at the 4:10 pm Sydney time close on the Australian Stock Exchange. BHP rose by A$1.84, or 4.5 percent, to A$42.11.
BHP's Chief Executive Officer Marius Kloppers wants Rio shareholders to pressure management to discuss a combination that would control more than a third of the iron-ore market and supply the most energy coal and copper. BHP has predicted annual savings and revenue gains of $3.7 billion from a merger.
Trebling production
Rio may treble iron ore production to more than 600 million metric tons a year, Albanese said in the notes sent to the exchange. Two new mines in Western Australia's Pilbara region will be developed at a cost of $2.4 billion. It would cost about $10 billion to increase output in the region to about 430 million tons a year, he said .
Forecast output from the planned La Granja copper project in Peru could be doubled, the statement said. Rio has also approved spending a further $563 million on the Diavik diamond mine in Canada, with partner Harry Winston Diamond Corp funding 40 percent of the cost.
Cost savings from Rio's $38.1 billion acquisition of Alcan Inc. may be $940 million, 50 percent more than expected, the statement said. The target for the sale of assets prompted by the Alcan purchase has risen to $15 billion from an initial $10 billion estimate, it said.
Bloomberg News
(China Daily 11/27/2007 page16)
Today's Top News
Editor's picks
Most Viewed