Sky not the limit for satellite services firm

Updated: 2007-11-27 07:00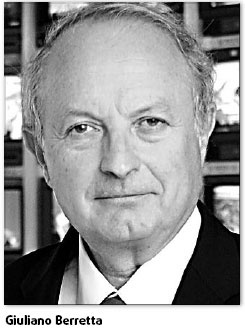 The President and CEO of Eutelsat, Giuliano Berretta, shares his views on the company's business and strategy in China with China Daily repor ter Guo Zhuo, during his visit to China with French President Nicolas Sarkozy and the French delegation.
Q: What are Eutelsat's main business areas?
A: Eutelsat is one of the world's three leading companies in satellite services. We operate a fleet of 24 satellites in geostationary orbit and supply capacity to international media and telecommunications operators for video services, professional data networks and value-added services, which are principally broadband services. With our fleet of satellites located in geostationary orbit we provide capacity that covers Europe, the Middle East, Africa, a large section of the American continent and large parts of Asia, including China.
Eutelsat benefits from a leading position for satellite broadcasting in the European market. We are currently broadcasting 2,700 channels to over 165 million cable and satellite homes. Our large portfolio of attractive orbital positions is led by two key video neighborhoods: HOT BIRD and EUROBIRD 1, which benefit from a large base of installed antennas and anchor clients who include BSkyB, SKY Italia, the BBC, CNN, Viacom, Bloomberg, and CCTV. We operate satellites at other major video neighborhoods to serve markets in central Europe, Russia, the Middle East and Africa.
In the market for value-added services our affiliate, Skylogic, located in Turin, Italy, provides broadband and broadcast services through its teleport. This is a particularly rapidly-growing activity for Eutelsat as demand grows for IP access solutions for companies and communities in regions with no terrestrial broadband networks, and as the need to deliver images. Skylogic also provides maritime and in-flight services and has developed a new service for satellite broadband access in high-speed trains.
Q: How long has Eutelsat been in China?
A: The Eutelsat Group has been present in China for the past three years with an office in Beijing, although our relationship with China is much longer, going back to the first broadcasts by CCTV from our HOT BIRD neighborhood into cable and satellite homes in Europe, North Africa and the Middle East. Eutelsat's main business in China today is the transport of TV signals between China, Europe and also Africa. During the official visit in April this year by President Hu Jintao of eight countries in Africa our satellites were used to provide video images directly back to China. We have already built positive working relationships with key players in China's telecommunications and satellite sector, including ChinaSatCom, and hope to further strengthen these relationships.
Q:How do you see China's market potential for Eutelsat?
A: In consideration of the size of the country and current terrestrial communications infrastructure, we believe that satellites can play an extremely important role in the development of communications between China and the rest of the world.
The demand for broadband connectivity between China's industrial and rural regions and other countries is already important for building strong, efficient and durable business relationships. Eutelsat, through our broadband subsidiary Skylogic, has unique experience in the provision of broadband and broadcast services and associated terrestrial/satellite infrastructure. Through partnerships and joint ventures with local players this know-how could play a valuable role in the development of successful business links.
Q: What is your commitment to technological innovation?
A: We are driving investment in Europe into new satellite technologies that will support the emerging market for mobile broadcasting and also the market for consumer broadband services.
We have ordered Europe's first S-band payload, which will be launched in early 2009 on our W2A satellite for mobile television to handsets and vehicles and for interactive services in complement to positioning services, including the future Galileo satellite system. To address the consumer broadband market, we plan in 2010 to launch a satellite to our main broadcasting neighborhood, which will be optimized for consumer two-way communications in extended Europe.
In addition to cost-effective delivery of broadband to the many homes beyond range of terrestrial networks, this new satellite will bring fresh capacity to Europe.
(China Daily 11/27/2007 page14)