Special Supplement: Polarsun to expand native-brand vehicle production
By Wang Danna
Updated: 2007-11-20 07:21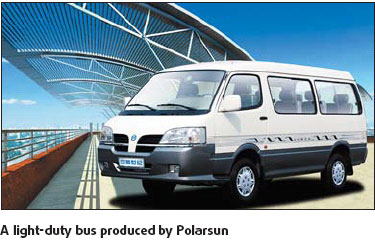 Polarsun Motor Holdings Ltd, one of the leading companies in Liaoning Province with an annual output value of more than 10 billion yuan, is engaged in manufacturing, designing and developing of passenger cars such as light-duty buses, multi-purpose vehicles (MPVs), sports utility vehicles (SUVs), and commercial vehicles.
Supported by the municipal government of Liaoning's capital Shenyang, Polarsun plans to expand its annual output to 150,000 MPVs and SUVs during the 11th Five-Year Plan (2006-10). Its current annual production capacity is 100,000 units.
Century light-duty passenger cars made by Polarsun Century, a subsidiary of Polarsun Motor Holdings, are well known in the Chinese automobile sector.
In the first three quarters of this year, Polarsun Century's sales volume ranked second among light-duty bus producers in the domestic market, with its growth rate topping the automobile sector.
Polarsun Century has designed both gasoline and diesel engines for 50 automobile models in three series, including passenger, commercial and special-purpose vehicles. Meanwhile, the new models of high-roof, lengthened and right-hand-drive vehicles are available.
Polarsun Century has launched a new model of light-duty bus, providing its customers with different choices at a basic price of 46,980 yuan. This model of standard specification and optional manual is popular in the market.
With its development in the light-duty passenger car market, Polarsun is also pursuing the development of special-purpose vehicles such as engineering vehicles, police cars, ambulances, mail cars, and sanitary and anti-epidemic vehicles.
The company has earned a good reputation in the market thanks to its innovative technology and design, as well as product performance.
The company has made great efforts to develop its sales system in the domestic market and has established eight regional sales companies in cities like Shenyang, Beijing, Shanghai, Shenzhen, Chengdu, Wuhan and Xi'an.
With the establishment of a risk prevention mechanism, Polarsun expects to realize its capability for quick reaction to the market.
Polarsun has more than 200 sales networks and more than 300 authorized service centers, covering 31 provinces, municipalities and autonomous regions in the country.
It focuses on both domestic and overseas markets. Its products sell well in the Middle East, Southeast Asia, North Africa, East Europe and South America.
Further, the company has developed its sales network in more than 50 countries and regions, covering the Middle East, Southeast Asia, East Europe, Africa and South America.
Polarsun has established a European Sales Center in Rotterdam in the Netherlands and a North American Sales Center in Los Angeles in the United States. These are important bases for its products exported to Europe and the United States.
Professional personnel with rich knowledge in marketing and local laws and regulations have been hired by the company to help its operations overseas.
Polarsun has also established a strong research and development (R&D) system in the overseas market.
In 2003, the company established its automobile research and development center in Detroit in the United States -its second R&D center in North America, the first one being founded in Los Angeles in 2002.
In Shanghai, Polarsun has established an automobile engineering academy that is in charge of the localization of new models designed by the two centers in the United States.
In Shenyang, an automobile research institute has been set up to deal with technology and service.
With its fast development, Polarsun has strengthened its sustainable development capability, planning a large-scale expansion of production capacity of passenger cars, MPVs and SUVs in 2008.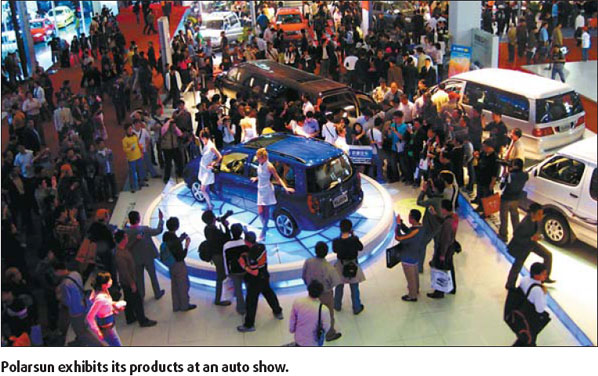 (China Daily 11/20/2007 page6)