Canada and China remain close partners

Updated: 2007-11-13 07:05
The impressive growth of Asian economies has prompted Canadian companies to take advantage of the increasing number of investment opportunities in the region, most particularly in China.
"China offers a tremendous opportunity for Canadian companies and Canada has much to offer China as it continues its rapid economic growth," said David Emerson, Canada's Minister of International Trade and Minister for the Pacific Gateway.
"Canada's Asia-Pacific Gateway and Corridor Initiative provides another enormous opportunity to build closer ties with Asian economies like China," added Emerson.
Ever since Canada was first called one of China's "best friends" by then Premier Zhu Rongji in 1999, the country's interest in China has not waned.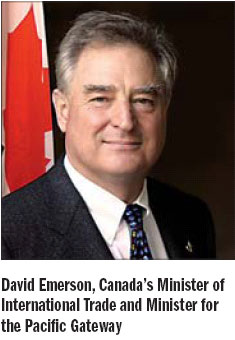 In fact, becoming the preferred partner in China's booming economy has been the priority for Canadian companies, with mining companies leading the charge.
Canada is targeting to help the development of the Chinese mining sector, with its abundant natural resources, evolution of deposit models, significant financial investments, skilled workforce, and hi-tech driven business community.
There are about 300,000 small-sized mining operations in China. While the country is mostly under explored, its geology is rich in metals and minerals.
With their extensive experience and technology, Canadian companies have ventured into China and found very encouraging results.
The Toronto Stock Exchange (TSX) has also played a part in growth of Chinese mining.
As of June 2006, there were 13 mining companies listed on the TSX with properties in China and 39 mining companies with properties in China listed on the TSX-V (the junior exchange).
The two countries' relationship looks promising and the close ties are predicted to flourish further in the long term.
"Statistically, trade has never been better but more importantly, the two business communities increasingly see greater opportunities in each others' markets. We're very encouraged by the interest in Chinese foreign direct investment into Canada. This is a key development and one that stands to benefit the Canadian economy and Canadian workers," said Sarah Kutulakos, executive director of the Canada China Business Council.
"There are always trade differences, but they are far overshadowed by the opportunities and the history of excellent relationships the Canadian and Chinese governments and business communities have enjoyed, and we believe these can only get better," she added.
Meanwhile, Emerson highlights the importance of further enhancing Canada-China ties.
"With China and other Asian dynamos pulling the world's economic center of gravity towards Asia, Canada's own economic center of gravity is being pulled westward. As a result, Canada is committed to attracting Chinese partners, Chinese investors and Chinese customers," he said.
(China Daily 11/13/2007 page25)