Marathon man goes the extra mile to enjoy a fresh start

Updated: 2007-10-26 07:06
When Liam Condon was assigned to head up Schering Pharmaceuticals in China about two years ago, he thought it would be just another international experience.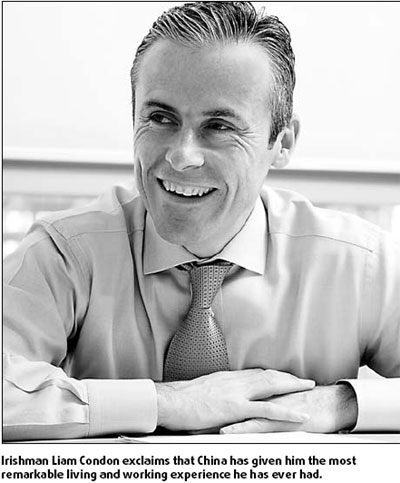 The Irishman was working in a German company with living and working experience in Europe, the Middle East, Japan and many parts of Asia. "How different could China be?" he thought.
"I was wrong, as it turns out. China is such an amazing country that it has given me the most remarkable living and working experience I have had so far," he says.
As the president of Bayer HealthCare China and general manager for the newly merged Bayer Schering Pharma Division, Condon is impressed with the huge leaps of China's development and its as-of-yet unexplored, great potential.
He says China used to be just a strategic market in the company's long-term plan, but today, it is one of the most important markets for Bayer HealthCare.
"Its growth rate in China is outpacing that of the world's industry average," he says. "At the same time, China is not just a market and Chinese people not just potential customers."
Condon is proud that he is involved in improving healthcare, especially in rural areas.
"I am furthermore very proud of the achievements my Chinese colleagues are making every day in China," he says.
"Huge unmet medical needs combined with fast economic development and dedicated people committed to bringing their country forward give me constant stimulation and inspiration for my everyday tasks."
Condon says the longer he stays in China, the more he realizes there seems to be an abundance of opportunity, inspiration and forward movement.
"If you do not visit a city for a few months, next time you go you will be surprised about changes in the city here and there," he says. "When I came to China two and a half years ago, I did not speak Chinese. But I believe if you want to live and work in a place, you have to learn the local language.
"My Chinese is getting better and better, and I now talk with my colleagues more and more in Chinese; I talk with the runners I meet in the park directly; I speak with doctors and patients in their own tongue.
"I believe that the language skill opens a wider window of China to me. Through the stories of the people I communicate with, I share their happiness about improvement of their life quality. And I admire their spirit in the face of such immense and rapid changes."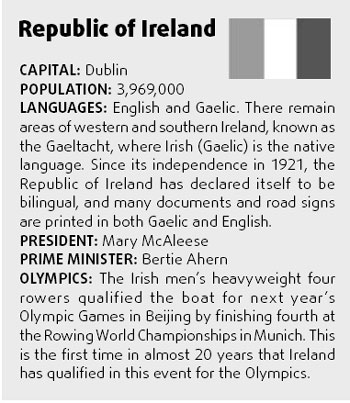 Condon says whenever he tells friends in other part of the world what he has seen in China, he feels pride at "the bottom of his heart".
"I tell them about China, how it is different from what people think, how it is a new China - a dynamic nation, surprising people every day with its changes," he says.
However, he says there are still old ideas about the new changes.
"I often encounter Europeans who still think that most of the Chinese people wear blue jackets and ride bicycles, and that there are only very few cars," he says. "Despite all the news in the media, China's image is still one of undifferentiated bias - either glittering rich or desolately poor."
One of Condon's passions is marathon running, and he has participated in more than 50 marathons and ultra-marathons (100 kilometers), including marathons in Beijing, Shanghai and Hong Kong.
He has even competed in the Mount Qomolangma marathon.
China Daily
(China Daily 10/26/2007 page20)