Google Earth used by militants to target Israel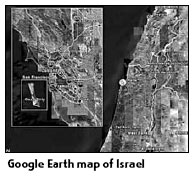 Palestinian militants are using Google Earth to help plan their attacks on the Israeli military and other targets, the Guardian has learned.
Members of the al-Aqsa Martyrs Brigade, a group aligned with the Fatah political party, say they use the popular Internet mapping tool to help determine their targets for rocket strikes.
"We obtain the details from Google Earth and check them against our maps of the city center and sensitive areas," Khaled Jaabari, the group's commander in Gaza who is known as Abu Walid said.

Today's Top News
Editor's picks
Most Viewed