Environment tops Jiangsu priorities
By Wu Jiao
Updated: 2007-10-16 07:27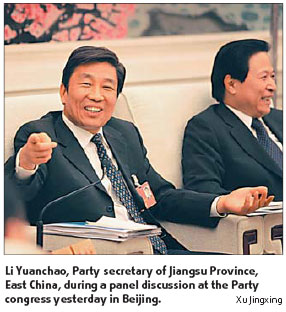 Top officials from Jiangsu yesterday pledged to give priority to environmental protection and energy conservation after decades of economic growth.
Li Yuanchao, secretary of the Jiangsu provincial committee of the Communist Party of China (CPC), said the province plans to allocate 20 percent of its newly added fiscal investment to environmental protection from this year.
It has also incorporated environmental protection efforts within its performance evaluation system for local officials, Liang Baohua, governor of Jiangsu, said.
The heavy environmental cost of the algae outbreak in Taihu Lake earlier in the year has drawn wide attention on the affluent eastern province.
To curb the problem, some 3,000 small- and medium-sized chemical plants, many located on the banks of the lake, are to be closed down by the end of 2009. This year alone, 1,700 of the plants, which consume large amounts of energy but are low on productivity, have been shut down.
The province will also require all companies to pay in advance for any waste or sewage they discharge into Taihu Lake from next year.
"With this series of measures, we are confident of being able to return Taihu Lake to its beautiful, natural state within 20 years," Liang said.
In addition to the measures to protect the lake, officials have also launched large-scale ecological experiments across the province's developed southern region, which has undergone heavy industrial development. Among the six officially listed national-level ecological cities, four are located in Jiangsu.
"The overall ecological system has greatly improved in Jiangsu and the environmental indices are moving in a positive direction," Li said.
Apart from sustainable economic growth, the province is also striving to ensure a more coordinated development between different regions and urban and rural areas under the guidelines of scientific development as promoted by the current leadership, Li said.
The province, which used to have a huge regional disparity, has managed to narrow the gap within its developed south and less-developed northern region.
"Ensuring security and happiness for residents, as well as bringing them wealth, is a key concern for leaders," Li said.
(China Daily 10/16/2007 page5)