No more poverty dropouts
By Song Lijun
Updated: 2007-10-12 07:23
A brand-new subsidy policy system will soon be set up by Northeast China's Liaoning Province to help local needy students continue with their studies, the provincial government announced at a recent news conference on the establishment of the new system.
The new sustentation policy system targets poverty-stricken students who attend local universities, and higher and secondary vocational schools. It is estimated that some 430,000 students across the province will benefit from the system.
To guarantee the smooth implementation of the policy, the Liaoning provincial government has transferred 350 million yuan to its Educational Department and the finance bureaus of the cities under its jurisdiction.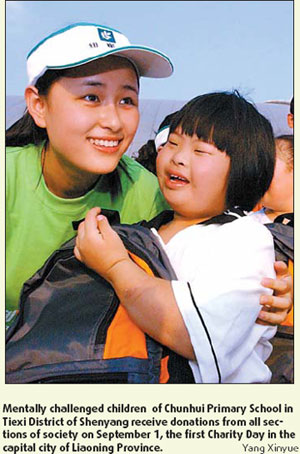 Over the past few years, Liaoning has established various scholarships and educational funds to assist impoverished students in attending universities and vocational schools. However, the previous subsidy system failed to satisfy the demands of all needy students because of its relatively narrow coverage and due to the amount of subsidy being inadequate to effectively relieve the economic pressures of the students who received it.
In comparison, the new multi-level system, composed of government scholarships, State Encouragement Scholarship, State Educational Funds and Loans, and part-time jobs for needy students, will make up the deficits of the previous one by granting more students access to the subsidy.
The Provincial Government Scholarship, for instance, will fund 1,500 meritorious students registering with local universities and higher vocational schools every year with a standard 8,000 yuan each.
In addition, poverty-stricken students with remarkable academic records will have the chance to be subsidized by the State Encouragement Scholarship, which covers about 3 percent of the local university students with a standard 5,000 yuan each.
The State Educational Fund will benefit even more university and higher vocational school students in Liaoning. Roughly 15 percent of these students can have access to the fund, which is divided into two categories, with 5 percent being put in the first category (3,000 yuan per person a year), and 10 percent in the second category (1,500 yuan per person annually).
The money required for the new subsidy policy system will be provided by both the provincial and city governments.
(China Daily 10/12/2007 page19)