'Housing crisis unlikely to hit Saint-Gobain'

Updated: 2007-10-11 07:09
A collapse in the US housing market is so far having a limited impact on Saint-Gobain's activity, the head of the world's biggest building materials group said, confirming the group's financial targets.
Sturdy demand in emerging markets, and progress in Saint-Gobain's strategy to shed non-core assets and focus on distribution and energy-efficient building materials, will help feed growth at the French group, Chief Executive Pierre-Andre de Chalendar (right) said.
"For the moment I see no significant contamination of the (summer's) financial crisis on the rest of the industry, even if a global slowdown cannot be excluded," Chalendar said in an interview late on Tuesday at the company's headquarters.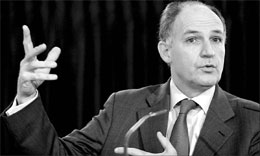 "The dynamism of emerging markets remains very strong," he said, adding: "We maintain our 2007 scenario" for double-digit operating profit growth and growth of at least 20 percent in recurring net profit.
Signs that weakness in the US housing market was spilling into the non-residential market do not worry Chalendar who said Saint-Gobain was less present than rivals in this segment. He added the renovation market was still faring relatively well.
Saint-Gobain shares have been hit recently by worries about the US housing sector collapse - losing some 12 percent since mid-July to a market value of 28.6 billion euros - as smaller European rivals like Wolseley and Uponor made bearish comments on the construction materials sector.
But Chalendar said that in Europe, construction activity remains strong in France, "not too bad" in Britain, and is coming off record levels, as expected, in Spain and Ireland.
Chalendar said he was pushing ahead with efforts to restructure Saint-Gobain's vast industrial portfolio that would add to growth momentum. He took over as chief executive in June after Jean-Louis Beffa's 21-year-long tenure.
In the past year, Saint-Gobain took over British plasterboard maker BPB, US distribution business Norandex, and mortar company Maxit.
It also divested its Desjonqueres perfume and pharmaceuticals bottle unit, and agreed more recently to sell its glass reinforcement and composites business.
Chalendar reiterated a pledge to sell its packaging unit, which some analysts estimate at nearly 5 billion euros, but again declined to give a time frame for the sale.
"A number of buyers have approached us. We are getting ready, but for now I have nothing interesting or new to say," he said.
Agencies
(China Daily 10/11/2007 page16)