Police bust Israeli neo-Nazi ring

Updated: 2007-09-10 06:56
In a case that would seem unthinkable in the Jewish state, police yesterday said they've cracked a cell of young Israeli neo-Nazis accused in a string of attacks on foreign workers, religious Jews, drug addicts and gays.
Eight immigrants from the former Soviet Union have been arrested in recent days in connection with at least 15 attacks, and a ninth fled the country, police spokesman Micky Rosenfeld said, in the first such known cell to be discovered in Israel.
All of the suspects are in their late teens or early 20s and have Israeli citizenship, Rosenfeld said. A court decided yesterday to keep them in custody. The young men covered their faces with their shirts during the hearing, revealing their tattooed arms. They did not comment.
News of the arrests came as a shock in Israel, which was founded nearly 60 years ago as a refuge for Jews in the wake of the Nazi Holocaust. Any forms of anti-Semitism around the world outrage Israelis, and the discovery of such violence in the country's midst made the front pages of newspapers and dominated talk on morning radio shows.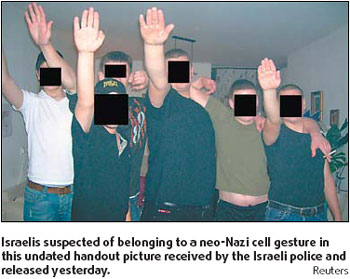 The gang documented its activities on film and in photographs. Israeli TV stations showed grainy footage of people lying helpless on floors while several people kicked them, and of a man getting hit from behind on the head with an empty bottle.
Police found knives, spiked balls, explosives and other weapons in the suspects' possession, Rosenfeld said. One photo that was seized showed one suspect holding an M16 rifle in one hand and in the other, a sign reading "Heil Hitler," he added.
Police discovered the skinhead ring after investigating the desecration of two synagogues - which were sprayed with swastikas - in the central Israeli city of Petah Tikva more than a year ago, Rosenfeld said. Police computer experts have determined they maintained contacts with neo-Nazi groups abroad, and materials seized include a German-language video about neo-Nazis in the US.
Group members wore tattoos of Celtic crosses - a symbol adopted by white supremacists - and barbed wire fences, and the number "88," code for "Heil Hitler" because "h" is the eighth letter of the alphabet. Another tattoo proclaimed "White Power," and they were photographed giving the Nazi salute.
Under Israeli law, a person can claim citizenship if a parent or grandparent has Jewish roots. Authorities say that formulation allowed many Soviets with questionable ties to Judaism to immigrate here after the Soviet Union disintegrated. About 1 million Soviets moved here in the late 1980s and early 1990s.
Rosenfeld said all of the suspects had "parents or grandparents who were Jewish in one way or another."
Agencies
(China Daily 09/10/2007 page7)