Nuclear power to better meet energy needs
By Song Lijun
Updated: 2007-09-06 06:26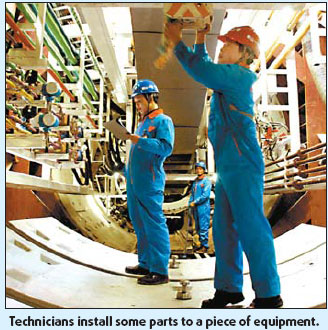 The construction of a nuclear power plant in the northeastern province of Liaoning will play a vital role in the ongoing development and revitalization of the region, a leading local government official said.
An opening ceremony for the construction of the Liaoning Hongyanhe Nuclear Power Plant was held on August 18. It is the first one of its kind in Northeast China.
Phase one of the project, with an investment of about 50 billion yuan, is expected to produce 30 billion kilowatt-hours of electricity annually, once it is completed by 2014.
"The province will strengthen its efforts in developing new energy, such as the nuclear power, to support the industrial development," Zhang Wenyue, governor of Liaoning said.
"The nuclear power plant will help optimize the energy structure here in the northeast. And it is also very essential for environmental protection, pushing forward revitalizing the old industrial base."
The central government gave the green light for the Hongyanhe plant in the 11th Five-Year Plan period (2006-10).
Electricity shortage has become a common challenge for most Chinese regions experiencing rapid industrial expansion, including Liaoning Province.
Official statistics show that China's actual demand for electricity was 120 billion kilowatt-hours last year, but it could only supply 100 billion kilowatt-hours.
"It is urgent to increase the supply capacity from electricity power producers," Zhang said.
Experts attending the 13th International Nuclear Power Project Convention last year listed three energy challenges for China.
China is experiencing unbalanced development with energy demands outstripping supply.
Experts said the country currently relies too much on coal use, and coal is a leading cause of pollution and greenhouse gas emissions.
China also has lower energy usage efficiency than other countries.
Coal presently accounts for some 74 percent of the country's power supply source, followed by water and hydroelectricity at 24 percent, and a mere 1.6 percent from nuclear power.
Experts said nuclear power had huge potential to meet the country's power needs.
China's nuclear power industry began early in the 1990s when the Qinshan Nuclear Power Plant, the first of its kind in the nation, commenced operation.
After two decades of development, Zhejiang Province in East China and Guangdong Province in South China have taken a leading position in nuclear power development.
According to a nuclear power development plan approved by the State Council last year, nuclear power production capacity is expected to reach 40 million kilowatts by 2020.
Zhang Guobao, vice minister of the State Development and Reform Commission, said: "The construction of the Hongyanhe nuclear power plant is very significant to China's overall development of nuclear power sector."
(China Daily 09/06/2007 page56)