A rare dance of madness
By Zou Huilin
Updated: 2007-08-25 07:11
SHANGHAI: The Shanghai Ballet Company will premiere Maurice Ravel's La Valse choreographed by American Ballet maestro George Balanchine (1904-83) on August 30-31 at the Shanghai Grand Theater.
Xin Lili, artistic director of Shanghai Ballet Company and former principal ballerina, noted that the piece is a rare work of Balanchine, because it has an intriguing plot.
"As it is well known to Balanchine fans, Balanchine seldom tells a story in dance. He emphasized more on movement than on dramaturgy," Xin says.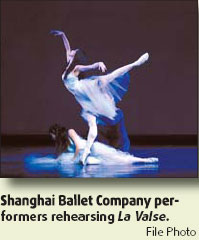 Last year, the Shanghai Ballet was authorized by the Balanchine Trust to perform the choreographer's highly acclaimed works, and this will be the first time that La Valse will be staged in China.
For the performance, the Trust has sent ballet master Ben Huys to instruct Shanghai ballet dancers.
"It is a crazy piece, and at the climax, the female principal dies," explained Huys. "Usually Chinese dancers are very reserved; I am helping them to show the madness while performing."
Xin had learned Balanchine's works during her college days. However, due to copyright issues, she never had the chance to perform them onstage.
While Huys was instructing the ballerinas cast as the three mysterious women, Xin could not help moving on her toes as well. "Indeed, I envy them a lot; they have the chance to present it to the Shanghai audience, however, I missed such a chance," sighs Xin.
Xin adds that when she told the Balanchine Trust she would choose La Valse, it amazed the members of the Trust, as the piece is "Not-that-much in Balanchine-style". "But I love it. It is a dance drama full of suspense. It's all about youth, death and love, " Xin says.
The leading dancer Ji Pingping will play the lead. In many people's eyes, she is a very shy albeit talented ballerina. Ji says: "Everyone has fears and a dark side. I will try to show the audience mine."
(China Daily 08/25/2007 page5)