McDonald's celebrates 40 years of the Big Mac
Jim Delligatti took two years to convince McDonald's that the Big Mac was a good idea but 40 years on he takes pride in having invented one of the world's most widely eaten foods that is getting its own museum.
In 1967, the McDonald's franchisee got permission from the corporate office to put two beef patties on a hamburger bun.
Only a year later, the Big Mac he lobbied so hard for had made it onto the menu of every McDonald's restaurant in the United States.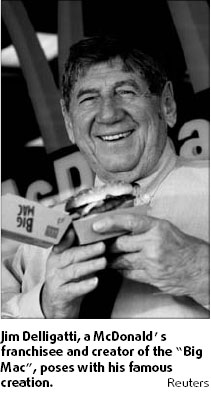 Today's Top News
Editor's picks
Most Viewed