Body set up for medical disputes
By Liang Qiwen
Updated: 2007-08-22 07:10
GUANGZHOU: Shenzhen will soon establish an independent body to mediate medical disputes between hospitals and patients.
The Shenzhen department of health said the body would be composed of legal medical experts not affiliated to any hospital or government organization.
Currently, the Shenzhen medical association handles disputes in medical malpractice cases.
The department claimed that no similar independent organization dealing with medical disputes exists in China.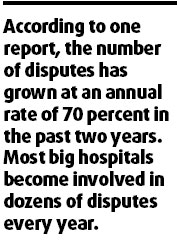 Zhang Yuqiang, a member of the Shenzhen Committee of Chinese People's Political Consultative Conference (CPPCC), first raised the proposal at legislative sessions earlier this year.
"An arbitration committee is necessary under the current situation," Zhang said.
The local health department predicted the new body would be launched by the end of the year.
At the end of last year, the Shenzhen government conducted a survey of 16 local hospitals, 10 public and six private, and found all of them had encountered serious medical disputes.
According to one report, the number of disputes has grown at an annual rate of 70 percent in the past two years. Most big hospitals become involved in dozens of disputes every year.
Most of them involve patients' families arguing with hospital staff because they are dissatisfied with the medical care on offer. Some angry family members have even beaten up doctors for their alleged mistakes.
Many families involved in such disputes have said the Shenzhen medical association, which is mostly staffed with doctors form local hospitals, could not take an objective view on medical malpractice cases.
The government will finance the new independent body.
However, its members will not be affiliated to any hospital and will remain self-governed.
The public has welcomed the proposal.
"It's good news for those who have had troubles with hospitals, especially poor patients," Xie Xiaomin, a woman living in Luohu District, said.
Once the organization is established, anyone with a medical dispute will be able to file a complaint for arbitration.
(China Daily 08/22/2007 page5)