Inflation surges to 10-yr high
By Xin Zhiming
Updated: 2007-08-14 06:50
Surging food prices drove the consumer price index (CPI) to 5.6 percent in July - the highest in a decade - the National Bureau of Statistics (NBS) said yesterday.
But analysts remained confident that it will ease by the year end.
Food prices, which make up about a third of the inflation basket, rose 15.4 percent year on year last month.
Meat prices rocketed 45.2 percent, the highest among all food products. Egg and edible oil prices increased by more than 30 percent year on year.
However, non-food prices rose only 0.9 percent.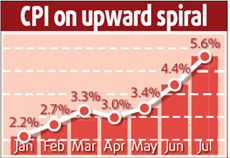 Core inflation, which excludes food and energy prices, remained low at 0.7 percent in the first half of this year, according to the NBS.
"The CPI growth in July is a bit surprising," said Zhu Baoliang, chief economist with the State Information Center.
Many economists forecast that it would rise by around 5 percent after it hit 4.4 percent in June.
The government has taken a slew of measures, such as encouraging pig raising and checking price cartels, to increase food supply and curb prices.
"Price rises are set to slow but it will take some time for those measures to show their effect", Zhu told China Daily.
Chen Xingdong, chief economist of BNP Paribas Peregrine Securities, said prices will not stop rising until November.
If the price rises spill over into the industrial sector and lead to price hikes of industrial products, the situation will become much more serious, as it will indicate a more general inflationary trend, Chen warned.
For the whole year, the CPI is bound to break the central bank benchmark of 3 percent, he said, adding: "Our study shows it may be about 3.7 percent."
Many economists have forecast it will be close to 4 percent.
One or two hikes in the interest rate are widely expected given rising consumer prices and other key economic indicators.
But Zhu said the rate increases, which are quite possible, will not ease price rises.
"Price rises of grain (used as animal feed) have remained stable and therefore it is not rising costs, but a growing supply-demand gap of food products that has pushed up the price index," Zhu said.
Interest rate hikes will not dampen demand for food, he added.
He said rising inflation has pushed the real interest rate - the benchmark one-year deposit rate is 3.33 percent - into negative territory.
(China Daily 08/14/2007 page1)