Five-star service for big Olympic rehearsal
By Gao Lei
Updated: 2007-08-13 06:45
QINGDAO: Just two days after the Olympic sailing test event began, athletes and officials in Qingdao have already hailed the services of volunteers and high standard of accommodation in a promising sign for next year's Olympic event.
Volunteers
"This is a test event for us volunteers as much as a test event for everyone, so we're training, we're learning how to work the best for the Olympics next year so everything can run smoothly and perfectly," Canadian volunteer Alyson Woolfrey, a volunteer on the Sailing Committee's news service desk, told China Daily.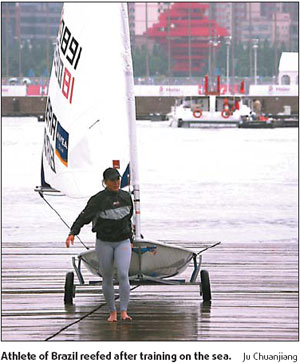 Woolfrey is one of nine foreign counterparts at the test event.
According to Jiang Jing, Vice secretary-general of the Olympic Sailing Committee in Qingdao, the 1,400 volunteers selected from 4,500 applicants are working feverishly at the Sailing Center, hotels, airport and elsewhere across 21 services such as security, transportation, translation and medication.
All have passed specific tests and undergone training, which will be of great importance to the event's success.
"The volunteers are very helpful, their English is very good and it makes it easy to communicate," US sailor Sally Barkow said.
Hi-tech support
Highly advanced technical systems have been installed to serve the regatta.
Messages about daily events and weather reports issued by the committee reach the cell phones of athletes and officials upon arrival at their base.
Global Positioning System (GPS) technology tracks the whereabouts of all participants traveling in shuttle buses between the airport, hotels and the Sailing Center.
Preparations for receiving VIPs can also be done in advance with the help of GPS.
The North China Sea Marine Forecasting Center of China's State Oceanic Administration is monitoring wind, waves and currents with high-powered computers.
Media service
Media service boats have been made with bigger hulls to allow photographers the comfort they need to take the best snaps.
While on board, they must wear safety chains at all times.
Journalists and photographers shuttling between different spots at the Sailing Centre by electric vehicles are provided lunch and supper.
The organizing committee provides free transport between the airport and hotels, as well as free bus service and convenient taxi operations anywhere in the city.
Athletes service
Athletes are entitled free transport the moment they are ready to leave the airport.
They are enjoying free access to the gym, swimming pool and self-help laundry at the simulated "Olympic Village", at Haiqing Hotel, just five minutes' drive from the Sailing Center.
Washing machines supplied by sponsor the Haier Group have had instructions on their control panels translated into English.
On the walls of the corridors hang pictures of athletes themselves and scenes from their homelands, making their hotel feel like home.
More western cuisine has been added to the menus of Haiqing and other hotels.
Medical service
Almost 50 medical staff are on standby during the regatta, ready to administer first-aid should it be needed at any time.
"We will provide the best service for 2007 Qingdao International Regatta in line with Olympic standards and formats to make this year's event a success, and to accumulate more experience for next year's Olympiad," Secretary-General of the Olympic Sailing Committee in Qingdao Sun Lijie said.
(China Daily 08/13/2007 page7)