Growth rate of trade surplus slows down
By Jiang Wei
Updated: 2007-08-11 05:09
China's trade surplus growth slowed down in July from the first half of the year, with imports hitting a record high, the Customs said on Friday.
Imports touched $83.39 billion in July, reflecting a year-on-year increase of 26.9 percent, the General Administration of Customs said.
"It is the highest monthly volume," it said. Also, for the first time since April, monthly imports crossed $80 billion.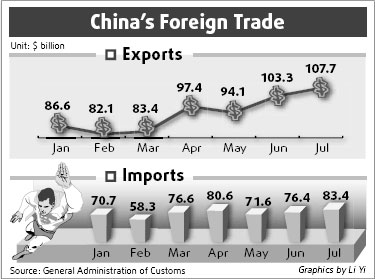 From January to July, imports of preliminary products, such as crude oil and soybean, grew robustly, with a steady increase in imports of machinery and electronic goods.
The surplus in July stood at $24.35 billion, up about 67 percent year-on-year.
The monthly figure, however, was still higher than most experts' predictions the central government announced a series of measures to cap exports of low value-added products and enlarge imports of materials and key equipment.
"It (the surplus) shows Chinese enterprises' power in exports," said Li Yushi, vice-director of the Chinese Academy of International Trade and Economic Cooperation, a Ministry of Commerce think tank.
Li said as a link in the international production chain, some Chinese enterprises can't be separated from the international market.
Many experts agree that China's surplus will remain high but the growth will slow down in the second half.
Despite many US people being worried that made-in-China products will flood the US market and hurt local industries, a US industrial association report illustrated "the widespread benefits to the US economy that have resulted from growing US exports to China".
The US-China Business Council said overall US exports when China grew 240 percent from 2000 through 2006.
(China Daily 08/11/2007 page10)