Global Village

Updated: 2007-08-10 07:27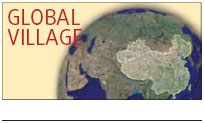 Beware of the stereotype
Expat society is a very fertile environment for stereotyping according to former Kunming English teacher Daniel Wallace.
"When you travel solo in a country, you have little choice but be involved in the culture all around you. You may find things you dislike, but on some level, their world is the only game in town for you," he wrote on escapeartist.com
"But, with a few dozen friends from the West living around you, teaching English, learning the local language, you can develop your own mini-culture, a bubble protecting you from the ocean.
"Chinese things become amusing, pitiful - suddenly you are the superior one again. I've made great 'foreign friends' here since I moved to this city of Kunming, and I wouldn't trade that experience for anything. Sometimes, however, I'm shocked by how crudely derogative we can be to the country we've chosen to visit/live in."
Knocking on heaven's door
Tian'anmen Square is a magnet for expats and tourists alike, and it seems many share the same experiences. German Kim Schiefer ventured to the "Gate of Heavenly Peace" with a fellow German and events became interesting when they were offered an unusual souvenir. "A guy who wanted to sell us his rickshaw," she says.
Schiefer encountered local students trying to practice their English, a typical experience. "I read a few English sentences to two Chinese girls to train their listening comprehension," she writes on chinaorbit.com.
"They could not reply to any sentence: my comment: 'meiyou tongguo (you did not pass)'.
"There was one Chinese who wanted to take a picture of us with our camera and a few tour guides who wanted to sell us trips to the Great Wall of China and a few souvenir sellers joined."
Then the classic Tian'anmen experience - the art show.
"The arts students who wanted to show us an art exhibition because it was the last day of the exhibition," she says.
The last day of these art shows has been running for the past few years.
Ups and downs
Don't you love being caught behind two people standing abreast of each other on a shopping center escalator? Around the world, commuters and shoppers stand on the right or left side of an escalator (depending on the country) so busy people can quickly pass. However this practice is ignored in most Chinese cities.
In Shanghai, metro authorities are promoting the concept at 30 city stations. Shanghai Metro Operation has painted a yellow line on escalators in some stations and are reminding commuters of the courtesy rule.
DID YOU KNOW?
The yellow lines marked on Beijing footpaths are designed to help blind people. The lines have grooved patterns so blind people can feel their way along a footpath.
(China Daily 08/10/2007 page19)