Lai takes a soft approach to playing women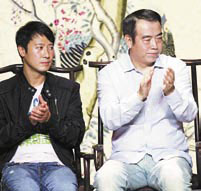 Internationally acclaimed director Chen Kaige (pictured right) has started the filming of Mei Lanfang, a biopic of the Peking Opera singer.
The film will focus on not only Mei's development of female characters, but also his role in popularizing Peking Opera with Japanese and American audience.
Hong Kong star Leon Lai (pictured left) will play Mei (1894-1961) in the picture. Zhang Ziyi stars as his lover, also a famed Peking Opera singer. Chen's own wife Chen Hong acts as Mei's wife.
Chen says he chose Lai because he is quiet and shy, which matches his understanding of Mei.
Zhang and Lai are now receiving Peking Opera training from two veterans. And Lai has been undergoing hand therapy for one hour a day, to make his hands as soft as those of the male Peking Opera singers who play women on stage.
The film is expected to screen next summer.
Artistic icon passes away
Chinese painting master Cheng Shifa died in the East China Hospital on July 17. A mourning ceremony is scheduled on the coming Sunday, at Longhua Funeral House.
Cheng was born in suburban Shanghai's Songjiang area in 1921. He formed his unique painting style in an early age, breaking the three separated categories of Chinese painting themes: people, flower and birds, and mountain and water paintings. In the 1950s he further built his fame on illustration and painting picture books, winning various prizes home and abroad. He worked as director of the Shanghai Chinese Painting and Calligraphy Institute since 1984.
In an auction in Beijing last year, Cheng's original draft of a picture book series about a legend in Dai minority ethnic group in Yunnan Province was sold for 11 million yuan ($1.45 million), breaking a new record for picture book drafts.
According to Cheng Shifa's son, Cheng Zhu, the artist dreamed of Yunnan in his later years. He once said: "I am old, but I miss Yunnan very much. I want to be a monk there."
Scientology not the reason for Cruise's Nazi lockout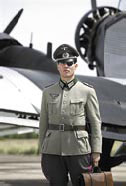 Shooting began Thursday in a forest outside Berlin on a movie starring Tom Cruise (pictured) as Germany's most famous anti-Hitler plotter. The German government said it was letting filmmakers shoot anywhere they requested, except the former German general staff headquarters.
The so-called Bendler Block, where Col. Claus Graf Schenk von Stauffenberg was executed by firing squad 63 years ago Saturday, was off-limits, said government spokesman Torsten Albig, citing "the dignity of the place."
Cruise plays Stauffenberg in Valkyrie, directed by Bryan Singer.
The movie set was cordoned off with yellow-and-black plastic tape in a pine forest near the village of Klein Koeris, 43 miles south of Berlin. Studio Babelsberg, the film's German producers, confirmed that Cruise was on the set.
The government's refusal to permit filming where Stauffenberg worked and died led to controversy about whether the 45-year-old actor's religious beliefs had triggered the decision.
Cruise is one of Scientology's best-known members. The German government considers Scientology a commercial enterprise that takes advantage of vulnerable people. Albig said the decision not to allow filming at the Bendler Block, now a memorial for Third Reich resistance fighters, had nothing to do with Cruise's religion.
China Daily-Agencies
(China Daily 07/21/2007 page5)