China Telecom and China Netcom yesterday called for the deregulation of the IPTV (Internet Protocol TV) market, which could give a major boost to the broadband Internet business of these two fixed-line carriers.
"There is an ongoing worldwide deregulation trend in IPTV. However, it's not happening in China," said Wei Leping, China Telecom's chief engineer.
Wei complained that regulators so far allow China Telecom offer IPTV commercial services in only six cities, preventing it from reaching millions of potential customers across the country.
Speaking on the sidelines of the Broadband World Forum Asia 2007, which opened in Beijing yesterday, China Netcom Chairman Zhang Chunjiang said he hopes to offer IPTV services "in every city in China", but this can only happen when the government gives the green light.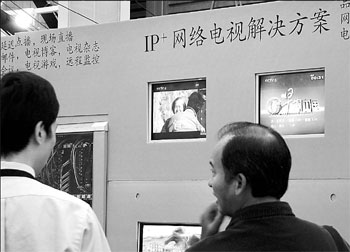 An IPTV booth at a Shanghai exhibition. Jing Wei
China Telecom and China Netcom have both built trial IPTV networks in a number of cities, but are unable to sign up commercial users without getting the nod from regulators.
The two firms hope that IPTV can provide them with a major source of broadband revenue, but broadcasting authorities are concerned that IPTV could hurt cable TV operators.
In December 2005, the broadcasting authorities in Quanzhou, in East China's Fujian Province, ordered the closure of an IPTV service jointly run by China Telecom and Shanghai Media Group (SMG), despite the fact that SMG had been granted a license to operate the service by the State Administration of Radio, Film and Television.
Wei said he expected to see the further "convergence" of telephone, Internet and cable TV networks.
But this convergence has sparked conflicts of interest between broadcasting and telecoms groups, which has also delayed the introduction of China's telecoms law.
The law, drafting of which started in the 1980s, is expected to offer a regulatory framework for network convergence.
Industry observers do not expect the law to be passed before March next year.
"The overlapping responsibilities and different goals of broadcasting regulators and communications regulators have restricted" the development of Triple TV, said Wu Hequan, vice-president of the Chinese Academy of Engineering.
Triple TV is an industry term describing the ability to offer voice, data and video across fixed and mobile telephone networks, Internet networks and cable TV networks.
China Telecom has 210,000 IPTV subscribers with 150,000 in Shanghai. China Netcom has more than 140,000 users.
Market research firm In-Stat predicts that China will have about 4.5 million IPTV subscribers by 2008.
(China Daily 06/06/2007 page14)