Once upon a time
No less than 1,001 farmers, laid-off workers, street vendors, minority people, students, rock singers, and white collar workers will travel free to the tiny German town of Kassel. The group is about to take part in one of the most important contemporary art events in the world.
Documenta is held every five years and the 1,001 Chinese people are the focal piece of Ai Weiwei's latest creation, aptly called Fairytale.
Kassel was often the venue for fairytales written by the Brothers Grimm, who used to live and work in the town, but the event in mid June is far from fantasy.
Fairytale is one of the largest-scale art works Ai has done. It will cost 3.1 million Euro ($4.1 million), which mostly covers the traveling and accommodation costs of the 1,001 people. Ai's gallery owner Urs Meile raised the money through two Swiss foundations, the Leister Foundation and the Erlenmeyer Foundation.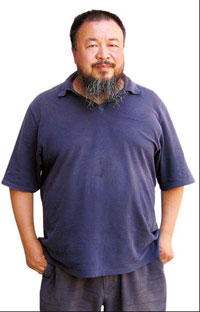 Artist Ai Weiwei will bring 1,001 ordinary Chinese people to Kassel, Germany, to the art event called Documenta. He then will create a documentary about them.   Mu Qian
"When I was invited by Documenta, I didn't want to do a conventional work like painting or sculpture, but rather do a work which directly relates to the real lives of ordinary people," said Ai. "Then the idea came to bring 1,001 Chinese people to view the exhibition as audience, and create a work of itself. The basic concept behind the work is to create a condition which encourages self experience and extends people's participation of art."
Ai said the number 1,001 doesn't have any special meaning, but is just a number easy to remember. He publicized the news for the recruitment on his personal blog (http://blog.sina.com.cn/aiweiwei) on February 26, and received some 3,000 applications within three days.
Apart from providing their basic information, applicants had to answer 99 questions, such as "Have you been to Germany?", "What is a fairytale?", "Do you know how to cook?", "Can art change the world?" and "Do you believe in evolution?"
Ai says he read the answers of every applicant, but the answers are not directly related to whether an applicant would be accepted. His main standards in choosing the candidates are "those who are not able to travel overseas under normal conditions, or those to whom traveling overseas has a very important meaning."
Apart from the Internet, Ai also tried other means to find candidates. In Caochangdi Village of Beijing, where Ai lives, there is a vendor who makes a living by selling shaobing (sesame seed cake). At the invitation of Ai, both the vendor and his wife will join Fairytale.
Wu Hongfei, a rock singer and writer of the Dong ethnic group, will bring 19 of her family members and relatives from Sanjiang, South China's Guangxi Zhuang Autonomous Region, to go to Kassel.
"Most of them have never been out of their county, and going to Germany is something impossible for them," said Wu. "Some of them were afraid that there would be nobody to look after their pigs, and some were afraid that Germans wouldn't let them go back to China."
At last, Wu told them: "Germany is as good as Beijing" and persuaded them to join the trip.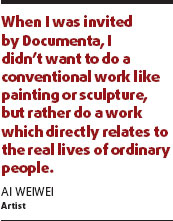 Ai also asked Beijing-based artist Jin Le to invite four people from his home in the Xinlian Village, Yepu Township, Tianshui, of Northwest China's Gansu Province, to participate. In the end the whole village had a meeting to choose four people who could represent different age groups: Jin Nunu, 60, Jin Maolin, 45, Li Baoyuan, 43, and Sun Baolin, 27.
When the four farmers came to Beijing to apply for visas, they brought Ai some presents: chili pepper, pickle, hand-made shoes, and a silk banner that reads "Gongde Wuliang" ("endless merits and virtues").
"In their mind, they had a chance to go to Germany because Ai is doing a charitable deed," said filmmaker Li Peifeng, who is making a documentary film of Fairytale together with some other filmmakers.
Ai said there is already more than 1,000 hours' footage of the participants' living conditions in China, which is "interesting and touching". The filmmakers will also go to Kassel to shoot Fairytale, and the result will be a documentary film of six to 10 hours. "It will be a truly realistic documentary about the current spiritual conditions of various Chinese people," said Li.
A book of interviews with the participants will also come out of the project.
The 1,001 people will travel in five groups, each of which consists of about 200 people and will stay in Kassel for one week. While there, they will be involved in two installation works by Ai, and none should leave Kassel.
"Many people ask me what they are going to do in Kassel, and a woman asked me if she had to perform naked," said Ai.
"I told them they needn't do anything. I just want them to go to Kassel, be happy, relax, see the show, and come back safely."
In Kassel, Ai will meet people, conduct interviews, cook and maybe do a bit of hairdressing. "I used to cut hair for classmates when I was in boarding school, so I can be a barber," he said.
Most of the 1,001 people have got their visas, and so far the German Embassy has only rejected one person's application. Ai said he didn't see the possibility for the participants of Fairytale to overstay in Germany.
"It might happen 10 years ago, but the Chinese society has changed a lot, and Germany is not an easy place to stay anyway," he said.
The participants of Fairytale will stay in a two-level dormitory house converted from a factory workshop of Volkswagen. Men and women will each occupy one level, and each level will be divided into small booths that can accommodate eight people. The factory workshop will not be open to the public during the Chinese participants' stay.
Ai said the choice of staying in a factory workshop was simply because that there would not be hotels available. Kassel has a population of 200,000. More than 650,000 visitors came to the last Documenta, and probably more will come this time.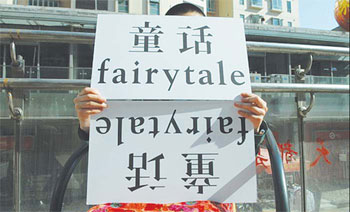 Chinese people from various walks of lives will travel to Germany and take part in one of the most important contemporary art events in the world.   File photos
Documenta was initiated in 1955 by the artist and art educator Arnold Bode in Kassel. After the period of Nazi dictatorship, it was supposed to reconcile German public life with international modernity and also confront it with its own failed Enlightenment.
Under the direction of Roger M. Buergel, this year's Documenta (Documenta 12) will pose such questions for art and also for its public: Is humanity able to recognize a common horizon beyond all differences? Is art the medium for this knowledge? What is to be done, what do we have to learn in order to cope intellectually and spiritually with globalization? Is that a question of aesthetic education and cultivation? What constitutes life, when everything is subtracted which does not belong essentially to life? Does art help us to penetrate to what is essential?
As for the meaning of "fairytale," Ai said it is "a simple desire for happiness."
"Fairytale is a work which relates to social, political and cultural aspects," he says.
"I don't even care whether it is an art work."
(China Daily 05/29/2007 page18)
Today's Top News
Editor's picks
Most Viewed