What do you do if you fear your fund managers could squander your money? Withdraw it! That's precisely what nine out of 10 depositors in China would like do. But what's the fear all about? Lack of trust! Why? The answer is not difficult to guess after the two huge public fund scandals in Shanghai and Chenzhou, Central China's Hunan Province.
Three years ago, it was found Chenzhou's Housing Provident Fund Center director Li Shubiao had squandered 120 million yuan ($15.5 million) from the fund on gambling in Macao. In fact, he started misusing the money a full five years before he was caught.
Last year's scam in Shanghai was triggered by a public fund scandal, too, in which the local pension fund was illegally "loaned out" to investment companies. Former Party secretary of Shanghai Chen Liangyu was sacked, and a probe ordered against him for his role in the financial scam.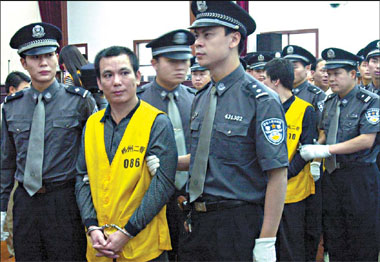 Li Shubiao, director of Chenzhou Housing Provident Fund Center, was sentenced to death in August 2005 for squandering 120 million yuan ($15.5 million) from the fund. Liu Gang
The two scandals, along with lesser-known but equally alarming ones, have awakened many people with a rude shock. They now think their hard-earned money is not secure even in the national social security, pension and housing funds. Nor do they think it's safe in the medical insurance, unemployment insurance, maternity insurance and poverty relief funds.
Yan Ping is such a person. "I'm desperate to withdraw my housing provident fund," says the accountant with a carmaker in Changchun, capital of Northeast China's Jilin Province. Housing provident fund is the reserve fund co-contributed by employees and employers and combines savings accounts with subsidized mortgage rates to help employees buy a house.
Yan's desperation is understandable because her provident fund center doesn't allow employees to withdraw money if they're not buying a house. "I'd rather keep the money in a bank or invest it in the capital market," she says.
The amount in China's public funds is astronomical. Take only the pension fund for instance. By the end of 2005, it had a 600-billion-yuan ($77.5 billion) surplus, which the "protectors-turned-predators" are preying on.
The National Audit Office carried out a nationwide check on pension and housing provident funds last year, confirming that people's worries were not unfounded because a whopping 30 billion yuan ($3.9 billion), about 10 percent of the audited funds, had been misused.
The tumor needs to be removed before it turns malignant and spreads throughout the funds' body, say leaders and experts. One of them is Zeng Ming, a National People's Congress (NPC) deputy from Guangdong: "Those funds affect the livelihood of tens of millions of people, and their use must be strictly controlled."
The ministries of finance, construction, and labor and social security have vowed to protect the housing and pension funds against misuse. But they have conducted only routine checks and audits without taking steps to fulfil their promises.
Systematic loopholes, analysts say, are to blame for embezzlement of public funds. Closed-door decision-making, administrative intervention and lack of effective supervision are the causes of the problem.
Yao Shouzhuo, a 71-year-old member of the Chinese People's Political Consultative Conference (CPPCC), the country's top policy advisory body, has done a lot of research on housing provident fund after the Chenzhou scandal in his home province. To his amazement, he found that fewer than 100 management staff were handling the country's housing fund, which amounted to a mind-boggling more than 1 trillion yuan ($129.2 billion) by the end of last May.
"It's practically impossible for such a small number of people to look after the fund properly," says Yao, who is also an academic at the Chinese Academy of Sciences. Loose management of the fund and lack of supervision are also worrying factors for him. The Chenzhou scandal "shows how slack the management regime can be".
According to a State Council regulation, a 30-member committee including 10 government officials and experts should manage a city's housing provident fund. Among the other members, 10 each have to be employees' and employers' representatives. This structure ought to have worked well, but in reality, it simply doesn't exist in many places, with the policy-making power controlled by the fund center directors, Yao says.
The loopholes of housing fund management are seen in pension and other public funds, too.
Gu Xiaorong, a professor of law at the Shanghai Academy of Social Sciences, says frauds and "casual accounting standards" are serious problems facing public fund managements. "And they are amplified by the lack of effective supervision."
Administrative intervention is a malady that has contributed to the mess in public fund management, says Chinese Academy of Social Sciences' pension expert Zheng Bingwen. He cites the Shanghai scandal as an example to prove his point.
Sun Jie, a professor from the University of International Business and Economics, puts the "disease" in perspective: "Administrative intervention not only harms the independent operation of public funds, but also poses a bigger risk."
So what's the prescription? There seems to be a consensus on having a law on public fund management to ensure the safety of people's money.
Deputies at the annual NPC session last month proposed a social security law be enacted, prompting NPC Standing Committee Chairman Wu Bangguo to declare that such a regulation was already on the top legislature's agenda. Shanghai, too, is mulling such a law, he said.
Sun stresses the proposed law is needed to rule out administrative intervention in the professional and independent operation of public funds.
Some experts suggest having an even more independent and effective internal supervision regime in place. "The pension fund management body should not be a subject of the local government," says Zheng Gongcheng, a professor of labor in Renmin University of China. "It should be put under the direct leadership of the central social security regulators."
Also, there have been calls for a supervisory commission independent of the government that will faithfully ensure a smooth and safe handling of public funds. Central University of Finance and Economics professor Zhu Fuling says some provinces do have a pension supervisory commission within the official pension management regime, but they are far from being independent and accountable.
Sun suggests that the public fund management body hire reputed professional investment institutions to operate the funds in order to avoid investment losses. Auditing, too, must be strengthened. And apart from official audits, external and independent accounting firms should be hired to check the funds' accounts because auditing is part of the supervision process, she says.
Gu wants a mechanism to be put in place to report the details of funds' operations to lawmakers. A special committee, comprising NPC deputies, experts, representatives of the government, employers and beneficiaries, can be set up to run the public funds, he says.
Timely and full disclosure of information on the management and operation of a public fund is the basic need of effective supervision. "Thorough information, including the auditing results, must be made known to the public through various channels, such as the media," says Sun.
Many experts agree with Sun because they say the public has the right to know what is being done with its money.
(China Daily 04/26/2007 page12)