Technology allows ebooks to turn a new page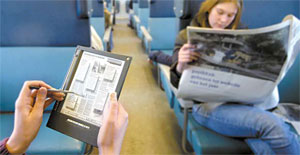 The iLiad costs $883 and comes with WLAN and MP3 capabilities. DPA

MAINZ, Germany: As the last millennium came to a close, many experts were beside themselves with predictions of the golden future that lay ahead for ebooks. Yet most publishing houses were ultimately unable to bring themselves to sell the rights for electronic books, particularly for their best sellers and fine literature.
In response, the first reading devices began disappearing from the market not a great loss, as they were generally bulky and heavy, with bad displays and poor battery lives. This led to the current situation, whereby most texts available in digital form are non-fiction or technical books.
But now a new generation of displays designed to resemble paper known as electronic paper are hitting the market and could potentially encourage the broad masses to plonk themselves on the couch with an electronic page turner.
Ebooks are often sold as protected PDF files for reading on a PC or laptop. Regulations on reproducing them vary from jurisdiction to jurisdiction. In Germany, for example, six copies are generally permissible.
Yet there are also dozens of other formats, including the widely distributed Mobipocket (PCR) and eReader (PDB). Unlike the rigid PDF format, they allow for flexible pagination and hence are better suited for palmtop computers and Smartphones with smaller displays.
Ebooks in the Mobipocket format can generally be read only on two previously registered devices.
The major advantage with ebooks is that they can be downloaded from the Internet at any time and used immediately, says Werner-Christian Guggemoos, managing director at ebook seller Ciando in Munich. "There's also the fact that they are cheaper," he says.
Non-fiction, technical books and guidebooks make up the lion's share of what's offered by sellers like Beam, Libri, Mobipocket, or Amazon. In many cases it's possible to download or print out individual chapters. No more than 20 percent of the ebooks in the online shops are literature.
Many ebooks are even available completely free, such as on Wikipedia or the roughly 20,000 English language titles from the non-commercial Project Gutenberg.
"Most people buy ebooks for informational, not entertainment, reasons," Guggemoss says. There are more and more novels being offered, however. "Their success will depend on whether or not suitable readers are released onto the market," Guggemoss says.
A paperback-sized display, a comfortable text that resembles paper and long battery lives are needed. This is why electronic paper is so important.
It is a thin display sheet made of light and dark particles that react to electrical currents. Electricity is only applied when it's time to change the content of the display.
The sheet offers high contrast, is completely independent of the viewing angle, and "feels" a good deal like reading from paper.
In Europe, the technology is currently only available as part of the 8.1 inch display on the iLiad, sold by Philips partner iRex for a hefty $883, albeit with WLAN and MP3 playback. The monochrome displays on the readers are large enough to display PDFs in decent quality as well.
The manufacturer claims that the rechargeable battery is good for more than a week of operation of several thousand turns of the page. No colored epaper has been put on the market as yet.
With better displays and a generation of readers who have grown up with computers, reading habits may change quickly.
DPA
(China Daily 04/20/2007 page19)
Today's Top News
Editor's picks
Most Viewed