A Slovenian endurance athlete completed a 4,828-km swim of the Amazon at the weekend, emerging from the water exhausted and delirious but in one piece despite the crocodiles, piranhas and bloodsucking toothpick fish.
Martin Strel, 52, known as Fishman, claimed a world record for distance swimming in a 65-day journey, which took him from the river's headwaters in Peru to Brazil's Atlantic coast.
On reaching the end he was carried into an ambulance to be taken to hospital.
"Now I am at the end and I am still alive. I feel like a kid when dreams come true," he said in his online diary. "I am very happy. I think I haven't quite got into my head what I have achieved."
A celebration ceremony was planned for Belem, 2,438 km north of Rio de Janeiro, a day after he reached the coastal city, its towers a sudden contrast to the rainforest, and became the first person to swim the Amazon. He was four days ahead of schedule.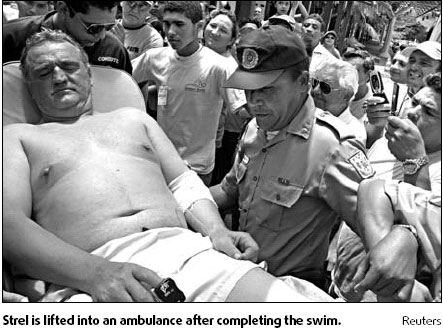 Strel has previously swam the lengths of the Yangtze, Mississippi and Danube rivers, but South America's waterway proved to be his toughest challenge.
To avoid flesh-eating piranhas he coated his wetsuit in petrol and cream and swam in the middle of the river, away from the banks. His 20-strong support team, travelling in a boat, threw blood and meat into the water in an effort to distract the fish.
"There are thousands of them. Often you find them closer to the shore. If you are bleeding or you have an open wound they will catch you right away," he said.
Covering an average of 80 km a day, he also escaped the potentially even graver threat of the toothpick fish which enters the body by swimming up the penis, an agonising fate.
"I never urinate straight into the water, I always urinate straight into my wetsuit." This was Strel's smelly secret.
Crocodiles, snakes and freshwater bull sharks were spotted but did not attack.
"I think the animals have just accepted me," said Strel. "I've been swimming with them for such a long time that they must think I'm one of them now."
The final stage was the most arduous. At times ocean currents pushed him backwards. Strel, his stocky frame 12kg lighter than when he started, became tormented by cramps, nausea, dizziness, high blood pressure and diarrhea.
At one point his son, who was also the support team manager, said: "He's hit point zero." A doctor advised him to stop but he continued, crediting his resilience to nightly chats with a psychotherapist who directed his thoughts away from pain. He also meditated and played his guitar.
"I have sores and pains in my whole body. My arms and legs feel as if I am carrying a big iron bar, they feel very heavy. I have problems eating, to move a spoon or fork, or to drink," he said.
"I do not have a temperature but it feels like there is a big pressure, like fire in my head. I need to cool down a little bit."
In the first week of the odyssey Strel developed second-degree burns from the sun on his face and forehead. His team gave him a hat and made a mask out of a pillowcase for protection, making him a bizarre sight.
People from around the world who followed his journey online sent creams to soothe his blisters and scabs. Villagers flocked to the riverbank to watch as he ploughed through the murky waters. Children cheered and mayors hosted receptions.
He is expected to remain in Belem for several days before returning to his wife in Slovenia.
After finishing the feat, Strel said he has no plans to tackle the Nile. "It's long but not challenging enough. It is just a small creek."
Guardian
(China Daily 04/10/2007 page9)