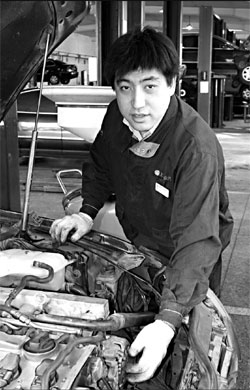 He Bo, 30, repairs a Volkswagen Passat in a modern garage built on the site of his father's office. Liu Jun

Joseph Stalin's shiny new gift to Chairman Mao Zedong just wouldn't work. When Mao visited the former Soviet Union in early 1950, he rode in a Russian-made ZIS limousine, which Stalin later sent to Beijing as a present.
Short for Zavod imeni Stalina (Factory named for Stalin), the ZIS had no air-conditioning but was fortified with 15-centimeter-thick glass windows and tyres filled with steel balls.
He Jiaji, then 16, was called in with other mechanics. The water in the engine's cooling system had frozen in the cold winter and caused cracks inside the engine. There was no anti-freeze fluid available at that time. For nearly three days, the mechanics drilled small holes along the cracks, then screwed inch-long pieces of red copper to close them.
"I will recognize the engine if it is still with the ZIS displayed at the Military Museum," said He, now 73.
Half a century later, his son, He Bo, is working in a bright clean garage for Volkswagen sedans the Santana 3000, Passat Lingyu and Polo series produced in Shanghai.
As advanced as the equipment and cars are, the 30-year-old still faces challenging tasks everyday.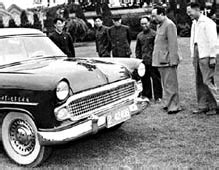 Chairman Mao Zedong with the first Red Flag in Beijing in 1958. He enjoyed inviting people to take a ride in his cars. File photo

Last month, a customer complained that his new Touran, a car made in 2004, was behaving abnormally.
It took He three days to track down the wire loosely linking the computer to the ignition system from among the 120 wires controlling various parts.
"I still have a lot to learn," said He, who attends annual week-long training sessions at Shanghai Volkswagen with other master mechanics from across the country.
"While other children played with toys, I fixed my toy cars and bike with a screwdriver and a spanner," said He.
His father remembers a drive with He when he was in elementary school. "He suddenly said: 'Dad, the silencer is leaking.' And he was right! So I thought: 'He will be eating from the same bowl as I do'," recalled the elder He.
The He family's connection to cars goes back a long way to the 1930s starting with the grandfather. The three generations have witnessed the tremendous growth of the Chinese automobile industry.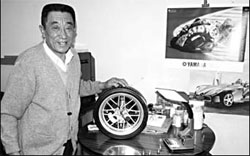 He Bo's father He Jiaji, 73, enjoys cooking for his son whose favorite clock is shaped like a wheel.
Liu Jun
For a long time after the world's first car appeared in Germany in 1886 and the first car rolled into China in 1901, foreign-made cars dominated the domestic market.
Today, China is the world's third largest car producer, with 7.3 million vehicles being rolled out last year.
Grandfather He Xiulin, who died in 1990 at 88, worked at the American Meifeng Automobile Company, one of four major car dealers in Beijing in the 1930s. Coming from a Manchurian family, He joined the PLA in the 1940s and drove a car named "Warsaw" from Poland for the leaders.
Though he was seldom home, his son He Jiaji developed a keen interest in cars. In 1949, the 15-year-old entered the former Central Logistics Bureau where he repaired the leaders' cars.
"The country was in desperate need of mechanics and automobiles," recalled He Jiaji. The mechanics went through broken automobiles made in the US and Japan which were spoils of World War II and the civil war afterwards. They reassembled them into autos that burned charcoal, coal and liquefied natural gas.
The few vehicles that used precious gasoline were saved for high-ranking leaders. Suburban district heads had to get up at midnight and ride their bicycles to attend meetings in central Beijing, He recalled.
From 1950 to 1964, He often worked in Zhongnanhai, the Beijing center of operations for Chinese leaders till today. Once he was repairing Premier Zhou Enlai's ZIS and Deng Yingchao, Premier Zhou's wife, passed by. He recalls her saying "valves" in English as he explained what the problem was.
"All the leaders were very eager to develop the nation's own automobiles," said He.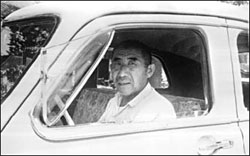 He Bo's grandfather He Xiulin drives a car named "Warsaw" from Poland for leaders of Beijing's Dongcheng District in the 1950s. He died in 1990 at the age of 88.
Courtesy of He Bo
In 1958, the first Chinese sedan made by the First Automobile Works in Changchun of Northeast China's Liaoning Province was sent to Zhongnanhai. It was called Dongfeng (Eastern Wind) but was later known as Hongqi (Red Flag).
Chairman Mao was quite pleased to sit in the model: "Finally, I'm sitting in our own car."
But it wasn't until 1972 that Chairman Mao would ride in the Red Flag three years after Premier Zhou. When former US President Richard Nixon visited Beijing in February 1972, Mao and Zhou ordered a Red Flag fleet for the guests.
He Jiaji worked as chief mechanic at the Shou Qi (Capital Automobile) Company for 44 years before retiring in 1994.
Set up in 1951, Shou Qi was China's first State-run company providing leaders and foreign dignitaries with Red Flag and other cars. By 2000, the focus had shifted to common consumers.
Unlike his father who rarely spoke to the Chinese leaders, He Bo has to maintain close contact with his customers. Last April, He was on two live radio shows to celebrate Shou Qi's 55th anniversary.
"We were less than 10 meters away from the audience. At first I stuttered," recalled He, an "image ambassador" at the Shanghai Volkswagen Dealer with the Shou Qi Group Co. Ltd. in Beijing, where he has worked for 11 years.
Today, Shanghai Volkswagen alone has some 40 dealers in Beijing and Shou Qi is just one of them. Besides, new cars enter the market almost every month, offering a dazzling array of choices for common Chinese families.
He Bo and his father also differ sharply in their repairing methods. He Jiaji could assess the condition of a car just by using his eyes, ears and hands. Were the wheels running straight? Did the engine squeak or choke when the gas was pressed?
The most common way to fix a broken part then was to clean it in diesel oil or caustic soda. His left hand stayed in the harmful liquid for hours each day and in the dry winter, his hands would crack and bleed.
"A good car repairer must also be a turner, miller, grinder and planer," He Jiaji said from his simple bedroom where a large radio and mechanic clock dominate the shelf.
"My father's generation had little education, but they were dexterous," said He Bo, who graduated from a junior college for auto mechanics. "What we do now is to replace the faulty part." While the older He considers this a waste, He Bo's response is that today customer safety is paramount.
At one of the display halls of Shou Qi, the glittering new Red Flag HQ3 made in Changchun last year evokes wide acclaim. Priced between 500,000 and 700,000 yuan ($65,000-90,000), it competes for attention from successful businessmen against imported brand names.
But He Bo thinks the new Red Flag is more like a Toyota Crown carrying a red flag.
"My biggest wish is to repair a Chinese Red Flag one day, " He said, explaining that such a vehicle would have a locally-designed engine and appearance.
(China Daily 04/04/2007 page20)