Night of reggae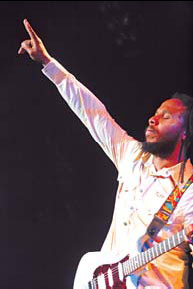 Grammy Award-winning artist Ziggy Marley ignited the reggae flame at Beijing's Star Live House on Monday night. Reggae's favorite son began his performance with the classic, Shalom Salaam.
Ziggy presented pieces from his new 2007 Grammy-winning album Love Is My Religion in addition to songs from his previous solo album Dragonfly, hits from his family band The Melody Makers, and of course classics by his legendary father, Bob Marley.
Dressed in a white shirt and jeans, he commanded the stage like a gospel preacher with his deep voice. He was backed by an adequate band that included the horn and vocal support. Despite being used to larger venues around the world, Ziggy showed his reggae power even in the more limited space of the Beijing venue. Reggae fans had the opportunity to get up close and personal with the international star.
Hundreds of fans, mostly expats in Beijing, packed the hall and swayed to Ziggy's rhythm. Ziggy will wrap up his first China tour at the Shanghai Yun Feng Theater tonight.
U2 donation with an Edge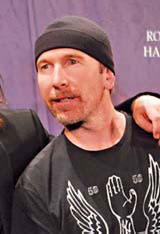 The Edge is donating his favorite instrument to an auction benefiting Music Rising, a charity the U2 guitarist co-founded to replace musical equipment lost or destroyed by Hurricane Katrina. He's logged thousands of hours of stage and studio time on the 1975 Gibson Les Paul. The 45-year-old musician has used the guitar throughout his years with U2. "I wanted to give something really significant that would really mean a lot for me to give. It deserved something that I would miss," The Edge said in France.
The Edge's guitar was expected to fetch between $60,000 to $80,000, according to the auction website.
The Edge, whose real name is David Evans, first discovered the area's rich musical culture as a young member of U2. He was intoxicated by the city's jazz funerals, where scores of musicians parade down the street in colorful costumes covered with flowers and feathers.
Harisu to star in TV series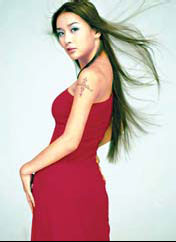 South Korea's most famous trans-gendered celebrity Harisu will play a policewoman in her first TV series. She will star in a sex crime drama Police Line as a policewoman who had been sexually offended by her stepfather when she was a child. The TV series will be launched in June.
It is also reported that Harisu, aged 32, will get married to her boyfriend who is five years younger than her on May 19.
Harisu has become a very famous singer and commercial star in South Korea since she was successfully trans-gendered in 1998.
China Daily-Agencies
(China Daily 03/28/2007 page18)