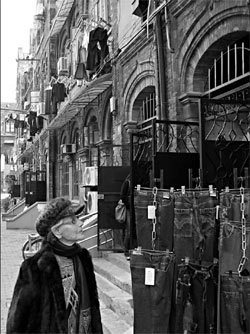 Ruth Shany searches for traces of her home in the Hongkou District of Shanghai where her family took refuge from Nazi persecution nearly 70 years ago.
Nadav Eshcar

Ruth Shany, a renowned Israeli painter, greeted every Shanghai friend with "Nong hao va?" ("How are you?" in Shanghai dialect) after returning to the city that was a haven for her family nearly 70 years ago.

At the renovated building in Hongkou District where Shany used to live, the 84-year-old painter found an 87-year-old Shanghai lady who has been living there for many years.

She held the granny's hands for a long time, tears brimming in her eyes.

"I am so grateful to the city, the only place which opened its arms to the Jewish refugees during World War II," said Shany.

While holding her solo exhibition in Beijing's XYZ Gallery, Shany spared three days from her China tour to travel around Shanghai.

She said that the city held a number of wonderful memories for her and used the word "unbelievable" to describe the refuge her family found here.

Shany was born to a Jewish mother in Berlin, Germany. When the Nazis headed by Adolph Hitler came to power in 1933, Shany's family left Germany and moved to Prague, in former Czechoslovakia.

A year later, Hitler announced that the Jews were welcome to return to Germany where they could live in peace. Shany's father, a soldier who served in the German Army, took his family back. But after five years, the family could no longer take life under the Nazis.

In February 1939, the Shany family boarded an Italian ship and landed in Shanghai after three weeks. Starting their life in a new country was not easy. All their properties were gone and they lived in Heim (temporary lounge) with other refugees.

In 1941, after they found a small room to live in, Shany's mother became sick with a tropical disease and died.

"Although our lives were full of hardships, we were treated in a friendly way in the neighborhood," Shany recalled.

She supported herself as a waitress in a Japanese restaurant in the now Nanjing Donglu street.

The owner of the restaurant was a kind soul and Shany even started learning Chinese silk painting under Japanese art professor Taishi Nishio.

While learning Chinese, she visited galleries, went to concerts and cinemas and began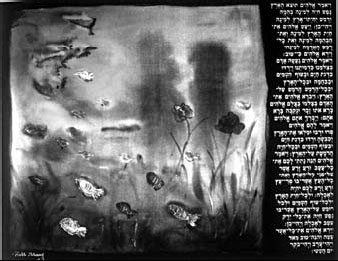 May the Earth Bear Living Creatures, one of the eight paintings of Ruth Shany's My Creation series.
File photo

appreciating the beauty of Shanghai.

Nanjing Lu, Babbling-well Street (now Nanjing Xilu near the Jing'an Temple which was called the Babbling-well Temple) and other beautiful sights would always stay in her memories, she said.

When the state of Israel was established, Shany, then 26, moved to Israel and settled down.

Shany said her family is inexplicably tied to Shanghai.

Her son Daniel Wachsmann, who would grow up to become a film-maker, was born in the Wardwall Hospital which was on today's Changyang Lu.

"I wish I can show him the place where he was born the next time I come to Shanghai," she said.

Incidentally, her son's film The Chosen was screened at the first Shanghai International Film Festival in 1993.

During her three-day stay in Shanghai, Shany travelled mainly in Hongkou District where most of the 20,000 Jewish people stayed during World War II.

When Shany tried to find the restaurant where she once worked, she learned it had closed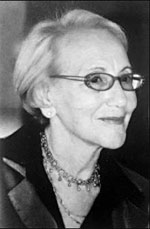 down in 1943, a year before she got married.
Shany has a studio in the city of Safed, which is situated in the beautiful Galilee area. She continues to paint using her special style-rich colors on silk, which she learnt in China.
Her Beijing exhibition includes 56 paintings, including her favorite series My Creation and other pieces on flowers, plants and scenery.
Several years ago, she and her husband spent two weeks on the shores of the Dead Sea. One night, she woke up and could not fall asleep again. She sat down at the window and looked out into the night.
There were millions of stars illuminating the dark blue, almost black, sky. Shany was struck by the fantastic sight amid the total silence of the night.
"I do not know how long I sat there until I noticed the appearance over the Moab mountains of a reddish stripe that gradually became larger and brighter. Breathless, I watched the wonderful display of colors and the thought came to me that creation must have begun this way," she said.
She took out her Bible and re-read the chapter on the creation of the world in seven days. "Moved by an inner urge, I painted My Creation, reflecting the wonder I had experienced."
She did not sleep for days until she had completed the eight paintings.
Her exhibition entitled Back to China with Love will continue at XYZ Gallery in Dashanzi of northeastern Beijing until Saturday.
"I regard it as a return to where my artistic journey began and I am honored to show my work to the Chinese people," she said.
(China Daily 03/27/2007 page20)