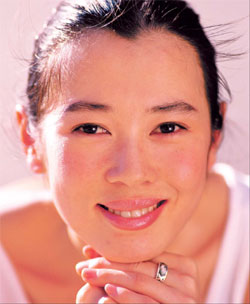 European audiences were impressed by Yu Nan's turn in the Golden Bear Prize-winning film Tuya's Marriage.


The lights were already there. The cameras were ready. And action started as soon as she stepped on the red carpet at the 57th Berlin Film Festival.

Yu Nan responded with her confident smile. Her full lips and deep-set eyes, journalists said, were more captivating in real life than on screen.

Yu was at the festival for her film Tuya's Marriage, in which she plays a Mongolian herdswoman. That role means her full face can't be seen for a good part of the film. But even her head-to-toe dress hasn't been able to hide her beauty, prompting Hollywood reporter-critic Kirk Honeycutt to write: "Yu Nan's beauty radiates in every scene despite being bundled in thick coats with a red scarf obscuring half her head. She just has one of those amazing faces that contains multitudes."

That face radiated even more amazingly when she took the stage with director Wang Quan'an to accept the Golden Bear Prize for the film at the Berlin festival.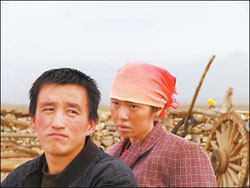 Tuya (Yu Nan) is a bride that comes with conditions for her second husband (Sen Ge) in Tuya's Marriage.
File photos

Yu has been Wang's regular actress for eight years, and plays the character of Tuya, a reserved but determined woman in the Inner Mongolia Autonomous Region. She is married to a physically challenged man. He decides on a divorce so that his still young and pretty wife can marry another man who could take care of her and the children. Tuya agrees, but has one condition for the new groom: Her first husband has to be part of the package.

Yu said it was the most difficult film she had acted in. The shooting conditions were tough, with freezing temperatures and an arid, dusty environment. Also, she had to learn to ride a horse and camel, as well as herd sheep. "I realized I was becoming Tuya in real life while we were shooting."

Describing her performance, Wang said: "I can see her passion for acting and the progress she has made. Years have passed since we worked together the first time. But I can still see a girl, confident and beautiful, arguing with her professor in the classroom. That was the first time I saw Yu, and decided immediately that she was my leading lady."

Yu, too, poured out her emotions: I feel proud that our film has won the highest honor at the festival, and I'm happy to see the audience here can see the inherent beauty of Tuya."

European audiences are more familiar with Yu because she has acted in several well-received offbeat films screened on the continent and appeared at many international film festivals. Many international critics see her as the next Gong Li, even though back home she has just started to be recognized by the media and public. That may be surprising because she has already won a Golden Rooster Film Festival (2003) Best Actress Award, the country's top acting honor. Her role in The Story of Er Mei (Jing Zhe), too, won her the Best Actress Award at the 2004 Paris Film Festival.

"I'm very happy to be among the favorites who could have won the best actress award in Berlin. Only Gong Li and Hong Kong actress Maggie Cheung have won such top prizes. And I have no regrets even after failing to get the Silver Bear Prize," she said.

Chinese actresses such as Gong Li and US-based Joan Chen are her idols, Yu said. "Gong Li is not a vase-like actress in Hollywood. Even though her English is not very good, many directors would choose her for their films because she is Gong Li, talented and a veteran. Her acting is excellent and I want to be as good as her."

Yu doesn't have Gong's language handicap. In fact, she speaks English and French fluently, something she could use to her advantage in Hollywood and European films. She just finished her first Hollywood film Diamond Dog, which too was shot in the Inner Mongolia Autonomous Region. Yu plays the female lead, which she said was one of her favorite roles.

Yu said the character "looks confident and strong, but actually she is vulnerable inside. The first time I read the script, I thought of Isabella that Gong Li played in Miami Vice. The two roles have a lot in common. I like to take up challenging roles, both in commercial and offbeat films."

Her rising stature made her sign a contract with CAA, the biggest entertainment agency in the United States, last year. She is preparing to start shooting for a thriller later this month, and will work with director Wang again in the middle of the year.

Born in Dalian in 1978, Yu started acting at the age of 4, playing role of a little girl with a handkerchief tied to her dress. Later, instead of following her family's advice to study foreign languages and get a university degree, Yu enrolled at the Beijing Film Academy in 1995.

"I was not a typical good student then because I often skipped classes," she said. "If given a chance, I would choose to watch films at home, instead of sitting in the classroom." So she soaked herself in French and Italian movies, her favorites then.

Her first film after graduating in 1999 was Lunar Eclipse (2001), which won her the Best Actress Award at Deauville Film Festival. The recognition brought her to French film producers' attention, one of who cast her in Rage (2003).

But the young actress seemed to be unprepared. "I didn't know a scout for Rage was there," she recalled. "He asked me if I had a minute. Then he shot me from different angles with a video camera. Later, I was asked to take an audition. That took about a week, and things were settled after I came back to Beijing."

Before the shooting for Rage started, Yu was made to attend classes at an intensive French language school for three months. "I learnt quickly. So when we started shooting, it wasn't difficult for me to communicate with the others on the set." The process of filmmaking in France taught her a lot about acting and sets in foreign films. The possibility of not being selected for the role put her under tremendous pressure, "especially because I was to act opposite Samuel Le Bihan, who is a big star".

Yu hardly had any problems with her English in the film. She owes her gift of languages, she said, to her grandparents who were among the first group of Chinese students to study abroad. Her grandfather can speak seven languages.

Yu has just finished Wang Xiaoshuai's Left and Right and Taiwan woman director Lee Yun-chan's second movie, My DNA Says I Love You.

In DNA, she plays an introvert science researcher, Ma Ling. Ma is genetically prone to putting on weight. She takes medicines to control her weight, and despite being slim and beautiful, she is worried about becoming fat. This thought tortures her till she meets the person she loves. Unlike Tuya, who often vents her passion, Ma seldom speaks her thoughts.

Playing two diametrically opposite characters may be a challenge, but Yu has the power to excel in whatever she does.

(China Daily 03/07/2007 page18)