Iran's president blamed the United States and Israel for the world's problems yesterday in a lecture to Sudanese officials and intellectuals during his visit to Sudan.
President Ahmadinejad's comments came as Iran and Sudan face mounting Western criticism Iran over its nuclear activities and Sudan over the conflict in Darfur.
But the hardline president's comments came just after Iranian and Saudi media reported that he was slated to visit Saudi Arabia a staunch ally of the US.
Ahmadinejad's trip will follow weeks of talks between the kingdom and its longtime rival Iran in a bid to defuse several conflicts in the region, including those in Lebanon and Iraq two crises that have raised Saudi fears of a sectarian explosion.
In a lecture titled "Iran and the world," the hardline president reiterated arguments that he has made repeatedly throughout the standoff with the US and its Western allies over Iran's nuclear activities.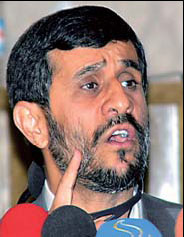 Iranian President Mahmoud Ahmadinejad delivers his lecture "Iran and the world" during the second day of his visit to Sudan, yesterday. AP
Speaking in Khartoum, he urged Muslims to rally behind Iran and accused detractors of Iran's nuclear program of trying to prevent a developing country from making scientific advances.
"There is no place in the world that suffers from divisions and wars unless America or the Zionists' fingerprints are seen there," Ahmadinejad told his audience in Farsi translated into Arabic. Al-Jazeera Live, a channel of the Qatar-based network, broadcast the lecture live.
"Our strength and the cornerstone of the victory is in our (Muslims') unity... we have to pay attention to the devils who want to cause divisions among us," the Iranian president said.
"They want to keep science in their hands only... they don't want the rest of the world to progress," he said referring Iran's nuclear program.
Ahmadinejad arrived in Khartoum, the Sudanese capital, on Wednesday in a show of solidarity with Sudan. Sudanese President Omar al-Bashir declared support for Iran's nuclear ambitions while Ahmadinejad said Iran viewed Sudan's progress as important as its own.
Sudanese state SUNA news agency said the visit would promote "cooperation in defense relations, the exchange of expertise and scientific and technological capabilities."
The official Islamic Republic News Agency quoted Iran's ambassador to Riyadh, Mohammad Hosseini, as saying that Ahmadinejad's visit to Saudi was "imminent" but didn't give any further details.
Al-Watan, a Saudi newspaper, quoted unidentified Iranian officials as saying the visit will take place "next week." The Saudi week begins tomorrow.
Ahmadinejad's trip to Saudi Arabia would come just weeks before the kingdom hosts the Arab League summit on March 28-29.
Iran is not a member of the league, but it backs parties to several regional conflicts, shares a border with Iraq and overlooks the Persian Gulf along with several Arab countries.
Agencies
(China Daily 03/02/2007 page7)