Guangzhou's new whale shark a jaws-dropping sight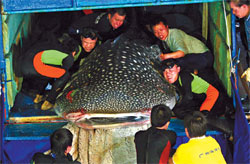 Staff struggle to transfer the whale shark from the truck to its new home at Guangzhou Aquarium. Chen Qiuming

A giant whale shark is all set to make a splash at its new home in Guangzhou Aquarium, Guangdong Province.
While it is sure to amaze visitors, equally amazing is the story of how a group of fishermen and aquarium staff moved the 5-meter fish, which weights over a ton, from the ocean to the aquarium.
The 3-year-old whale shark was caught by fishermen in the South China Sea in November last year, the Yangcheng Evening News reported.
Learning the news, Guangzhou Aquarium contacted the fishermen about the possibility of raising the whale shark, the largest living fish species, and they agreed to help.
Aquarium employees built a 700-square-meter fence off the coast of Hainan Island as a temporary shelter as they began thinking of how they were going to transport it.
"After more than two months feeding, the whale shark regained its energy and was in good shape for transport," said Lian Rong, a fisherman from Hainan.
"The fish happened to enter our net one night, and it survived injuries caused by the net and harpoons," Lian said. "I am quite happy it will settle down in Guangzhou and I will pay it a visit in the future."
Led by Lian, dozens of fishermen began transporting it last Tuesday morning.
The first and the most difficult step was to encourage the shark into a cage in the water.
It escaped six times despite efforts of a dozen fishermen and divers. About two hours later, it was finally driven into the cage.
Next, the cage was hoisted up and the fish was put into a 6.8-meter long and 2.8-meter wide water tank on a large truck.
The truck then began the long journey to Guangzhou, accompanied by another truck containing 10 tons of sea water.
Fresh sea water was added into the water tank regularly and two water pumps worked inside the tank to guarantee oxygen supply.
At last, after a 20-hour journey, the whale shark reached its destination. After much pushing and desperate hosing with water, the shark now swims happily in a 900-cubic-meter large pool in the aquarium.
The whale shark, which has distinctive light-yellow markings random stripes and dots on its very thick, dark gray skin, will be unveiled to the Guangzhou audience in the near future after adapting to its new conditions.
The whale shark can grow to as long as 20 meters, and weigh up to 20 tons.
The enormous shark is a filter feeder and sieves enormous amounts of plankton to eat through its gills as it swims. Unlike other sharks it is no danger to humans, and in fact has been known to be playful with divers.
China Daily
(China Daily 02/15/2007 page6)
Today's Top News
Editor's picks
Most Viewed