China's national badminton team prefer to compete in Europe rather than in Southeast Asia, where they can often expect a hostile reception, says head coach Li Yongbo.
"Fans in Malaysia and Indonesia are not so friendly. Our players are booed and whistled when competing in those countries," said Li.
The heavily publicized rivalry between world No 1 Lin Dan and Indonesia's Hidayat Taufik has antagonized fans and contributed to the ill will felt around the court whenever the two embittered rivals meet.
Taufik was at the center of a disturbance in last year's Hong Kong Open, storming out of his semifinal with Lin after failing to persuade the referee to reverse a controversial decision by a lineswomen.
In Asia, players are frequently booed or jeered by host fans when playing away matches.
But Li urged his players to remain composed under pressure.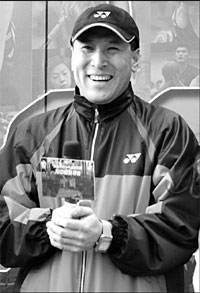 China's badminton team coach Li Yongbo attends a commercial event organized by soft drink company Pepsi on Sunday in Beijing. Li said greater commercial support and endorsements were fostering more enthusiasm for the sport on the mainland. Courtesy of Pepsi
"We have no way to avoid these disruptions except by fully focusing on our matches. Our players must learn how to get past these interruptions from the stands."
At the 2006 Doha Asian Games, Indonesian fans often overshadowed the main action whenever one of their compatriots took to the stage, with a chorus of thousands managing to upset opposing players by shouting and whistling throughout the match.
China's Lin and head coach Li expressed their complaints about the distractions from fans after Lin was defeated by Taufik in the men's singles final.
The coach, known for his tolerant approach to his team, said Europe was much more China-friendly.
"We feel more comfortable in Europe. Fans there show more respect and cheer every player who plays well."
Li said he was moved by the reception to the all-Chinese semifinal between Lin and Chen Hong at last year's world championships in Madrid.
"There were so many foreign fans at the match and afterwards the whole stadium gave a long standing ovation for their brilliant performance."
Badminton is a traditional sport in Malaysia and Indonesia. Previous encounters between the two have often erupted into large melees in the stands, testament to the strong rivalry that exists between them.
Malaysia and Indonesia have met in eight Thomas Cup finals, the messiest of which struck in 1994.
Fans celebrated Indonesia's early 3-0 lead by lobbing bottles at the Malaysian players, forcing the referees to cancel play - the first time in Thomas Cup history that only three matches were completed.
At the 2002 Busan Asian Games, Taufik threatened to boycott the ongoing team finals against host Korea after a series of controversial calls from the linesman.
With unruly Indonesian fans having to be forcibly restrained from stampeding the court in protest, the match was delayed for two hours until the linesman was replaced.
2008 hope
Regardless of any such hostilities, China coach Li said the team is fully gearing up for the 2008 Beijing Olympics and is now in a position to bolster its medal tally on home soil.
"We won four then three golds at the past two Olympics, but we're aiming to take more in Beijing. All of us have the motivation and determination to achieve this."
Women's veteran Zhang Ning is one of the figures at the forefront of the big push.
As the most-decorated player in the women's team, the 31-year-old has vowed to continue playing as long as her body will allow.
"Yes, I've won many titles and gold medals, but I won't slow down in 2008.
"I know there are young players pushing me. But I will not quit the national team unless they show they can beat me," she said.
Consistent performances from veterans and teenagers alike are even giving way to a more liberal attitude toward goings-on off the court.
"I don't think it's unusual to become romantically involved when players reach a proper age. I won't interfere or prevent my players from getting involved with each other if such a situation should arise," said Li.
"It's their prerogative. I believe players who are in love will be able to train and compete better as they will be in a good mood."
Li has won over fans for espousing a liberal attitude that is almost unheard of in other national sports.
The headline-grabbing affair between Lin and women's world No 1 Xie Xingfang has generated intense interest and support from the Chinese people, suggesting Li may be on the right track.
Commercial support
Li also said greater commercial support and endorsements were fostering more enthusiasm for the sport on the mainland.
"In previous years, Chinese badminton has been supported by so many people and companies. I'm glad to see that Pepsi is making efforts to inspire more Chinese people to get involved in the sport," said Li, who joined Olympic champion Zhang and emerging star Chen Jin at a Pepsi-organized campaign on Sunday.
A "Wishing Wall" built with 20,000 cans from the soft drink giant and two drums have been set up on Beijing's Xidan shopping street, in Zhongguancun computer district and at other cities around the nation.
(China Daily 02/14/2007 page22)