Major retailer Beijing Jingkelong Co will further expand its operation through a share purchase deal with another retailing group in the capital city.
It has agreed to buy an 11 percent share in Shoulian Group for 50 million yuan, the company said in an announcement at the Hong Kong stock exchange yesterday.
The purchase enables Jingkelong, the 27th-largest retailer in China, to take over around 40 Shoulian retail outlets, which will operate as franchised stores under the name of Jingkelong.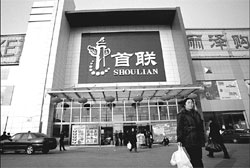 Shoppers leave a Shoulian outlet in Beijing with their purchases. File
The deal reflects fierce competition in the retail sector stemming from the nation's fast growing consumer market.
The purchase agreement comes after a series of new outlets were opened by Jingkelong, which reported sales of 3.2 billion yuan in the first nine months of 2006. After raising $74 million in its initial public offering in Hong Kong in May 2006, it also purchased eight Fulande stores, a retailer mainly operating in the suburbs of Beijing, last year.
The deal is also seen as a prologue to further integration of the two groups, as Jingkelong says it will have priority in purchasing a stake in Beijing Xidan Friendship Group, which controls around 50 percent of Shoulian Group.
Shoulian is a daily consumer products retail chain operator that has three hypermarkets, 21 supermarkets, one discount store and 16 convenience stores in Beijing.
The deal has increased Jingkelong's outlets from 177 to 212 in the capital city, "but that is still a bit behind our goal", said a spokesman from the company.
It said previously that it planned to increase its number of stores to 255 by 2009.
Jingkelong also recently announced that it plans to migrate its H-share listing to the main board of the Hong Kong stock exchange to raise funds for expansion.
Unlike the company that Jingkelong purchased previously, Shoulian is in bad financial straits. It recorded a loss of nearly 100 million yuan in 2005.
Analysts said despite the unproductive status of Shoulian, Jingkelong has much to gain from the deal.
The business model of stores from both groups is similar, according to analysts, making them more easily integrated. More than half of Xiaobaiyang Supermarkets, a brand name under the Shoulian umbrella, has over 50 outlets are in the suburbs of Beijing, where Jingkelong has been seeking to expand.
The deal will also upgrade Jingkelong's sourcing capabilities and bargaining power, it said.
(China Daily 02/13/2007 page14)