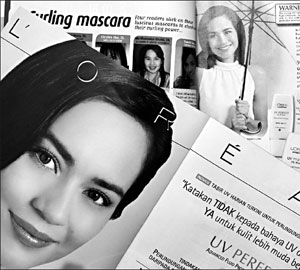 Maya Karin, a Malaysian personality and model of Malay-German parentage, is seen in this montage of cosmetic ads in two popular English and Malay-language women's magazines in Kuala Lumpur yesterday. AFP
The Malaysian government's plans to reduce the number of Eurasian faces in advertisements have triggered outrage among models and presenters in the multicultural country.
Information Minister Zainuddin Maidin said last week he would work with the Culture, Arts and Heritage Ministry to come up with guidelines to reduce the "pan-Asian" faces which he said dominate TV and billboards.
"I realize that many advertisements on TV now, especially on private TV, feature more faces which are not Malaysians. This, to me is downgrading local faces," Zainuddin said according to the state Bernama news agency.
His words have been sharply criticised by Malaysian models of mixed heritage, who said they were discriminatory in a country which is home to the majority Muslim Malays as well as ethnic groups.
Marion Caunter, a 25-year-old host on the popular music station Channel V, said it was difficult and unnecessary to draw the line between "mixed and pure breed" in the multi-ethnic society's media and advertising industry.
"Almost everyone in the industry is mixed in some way or another, everyone's got some mixed blood in their history so how do you draw the line and determine exactly how mixed a person is?" she said.
Caunter, who is of Portuguese-Chinese heritage, said most presenters and spokesmodels were hired because of their talents, not just their looks.
"I like to think that I was hired because I can do a decent job hosting and modelling and if I am to be penalised for looking a certain way, then that's discrimination," she said.
An aide to Zainuddin said the minister was replying to a letter by a reader in the Malay-language daily, Utusan Malaysia, that complained Eurasian faces were dominating the media scene, giving less opportunity to "Malaysian" talent.
"He was actually saying that more opportunities should be given to talents and models who look more like Malays, Chinese or Indians, instead of the usual white-mixed faces we see on TV ads," he said.
"He also said that most of those ads which use pan-Asian talents should be for the international market rather than shown in Malaysia," he added.
Another well-known face on Malaysian television, Paula Malai Ali, who is a presenter for sports channel ESPN, said pan-Asian men and women were usually preferred by clients because of their widespread marketability.
"The whole allure of pan-Asian faces has been the cross-over appeal. They have the Asian flavour with an international touch," said Ali, who is of British-Malay heritage.
"It all comes back to compartmentalising people. We are not just a race, we are a country of many races. The only reason people should not be allowed on TV is if they really suck," she said.
Malaysia's government-run RTM channels, which cater mostly for Malays, do not feature pan-Asian models in their advertisements but the popular private stations frequently run ads featuring mixed-race faces.
Many are often the choice of international brands to become spokespersons in Malaysia, and for presenters of English-language programs.
A decade ago, the government introduced a "Made in Malaysia" campaign for commercials, insisting that all advertisements for the local market be filmed and edited locally using Malaysian talent, in a move to boost the industry.
However, in recent years the guidelines have not been observed as strictly, giving rise to a greater variety of "looks" on TV and advertising.
AFP
(China Daily 02/09/2007 page9)