Direct sellers in China have begun the year with bold marketing campaigns. Amway got Olympic star Liu Xiang on board to endorse its products, while Avon's recruitment drive for direct sellers is frequently on TV.
The firms are emerging from a difficult period and transforming their businesses in China.
The Chinese government approved 14 enterprises to carry out direct selling in 2006 after a regulation on the business came into effect at the end of 2005. This is a small proportion of licenses given there are over 200 direct sellers around the country.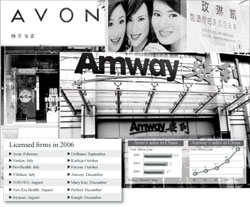 Multinational direct selling giants including Amway Corp and Mary Kay Inc were not granted licenses until the application deadline on December 1.
The government's reluctance to license direct sellers reflects its tough stance on developing the business in China. The application process is slow and complicated.
Once licensed, firms face many restrictions. Under the Chinese regulation, direct sellers must comply with the business model of direct sellers plus retail outlets. Direct sellers must also apply for each type of product they sell. The location for carrying out a direct selling business must be approved by the government. And team payment, a standard feature of direct selling, is banned.
The strict license requirements have seen direct sales companies in China undergo a major transformation.
Amway, which came to China in 1995, endured a difficult transformation of its 180,000 direct sellers throughout the country. It has now adopted the model of retail outlets, service network, distributors plus direct sellers. It has also made some of its direct sellers regional distributors and formal employees.
Amway would not disclose the cost of the changes, but said sales income dropped last year.
According to direct sales analyst Tian Wen, the cost of the business transformation and other costs in applying for a license amount to as much as 30 million yuan.
China banned direct selling in 1998 after a series of pyramid schemes embroiled millions of people many of them university students in criminal activities carried out using direct sales as a front.
The new regulation came into effect at the end of 2005, allowing direct selling to resume within a strict new framework.
The new business model has seen direct sellers lose many of their traditional advantages such as low costs, flexible operations and close customer contact.
Direct sales firms must now establish retail outlets and service networks, which has added to operational costs.
But major direct sales companies have chosen to stay in China and adapt their businesses, lured by huge market potential.
"We are here in China for long-term development rather than 10 or 20 years," said Eva Cheng, regional CEO of Amway Greater China, at a recent media conference.
Analysts said the strict new direct sales business model was unlikely to change much. The 14 approved direct sellers, 10 foreign firms and four domestic companies will be closely monitored.
(China Daily 02/07/2007 page15)