Editor's note: China's military development has increasingly drawn attention worldwide. Putting the issue in perspective, Lieutenant-General Zhang Qinsheng, deputy chief of the General Staff of the People's Liberation Army (PLA), talks to China Daily's Sun Shangwu about the PLA's modernization drive and foreign exchanges. The following is the full text of the interview: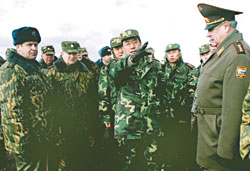 Lieutenant-General Zhang Qinsheng (center) talks to Russian army officers in October last year while preparing for a joint military exercise among members of the Shanghai Cooperation Organization. This year's exercise will be held in Russia. File photo
Q: Could you comment on the PLA's modernization efforts to which the international community pays close attention?
A: The PLA is actively pushing forward its modernization process, which focuses on enhancing its capabilities in an information age. However, the PLA shall never engage in an arms race, nor threaten any country.
We do not conceal our intention to build a strong and modern national defense. We also tell the world candidly that the Chinese defense policy is always defensive in nature. The modernization of the Chinese armed forces aims to achieve the ability to defend national sovereignty, security and reunification of the country. The process is open and based on cooperation.
China has never joined any military alliance, never sought military expansion, nor built overseas military bases.
The PLA prefers to prove, through its acts and the truth, that China's military development not only responds to the need of national defense, but also contributes to world peace.
What China is working to achieve is military modernization with Chinese characteristics.
We shall never engage in an arms race, nor pose a threat to any country or individual.
Q: Could you elaborate on China's military transparency?
A: In recent years, China's military modernization has raised suspicion and concerns, and at times, even the target of accusations of those with ulterior motives. I think that misunderstanding is often a result of lack of understanding and communication. There is an old Chinese saying that "Seeing is believing". We welcome more friends to come to China, and visit the Chinese armed forces themselves.
The PLA is taking pro-active, pragmatic measures to improve transparency of national defense. Since 1998, China has issued five White Papers on national defense, providing an increasingly unequivocal outline of its defense policy, as well as its military development.
At the end of last year, China released another white paper: China's National Defense in 2006, which first put forward China's national security strategy, nuclear policy, and the vision of development of the PLA services and arms.
Q: What has the PLA done to achieve a higher level of openness?
A: The PLA has made great efforts to open more aspects of its endeavors. One example is its military training. Since 2000, the PLA has invited foreign observers and military attaches in Beijing to witness five of its military exercises, including the live-fire exercises of the motorized infantry brigade, armored brigade and the marine corps. Meanwhile, since 2001, PLA has sent officers abroad to observe nine foreign military exercises. The PLA is also having more overseas joint military exercises with foreign forces.
We are making preparation for a joint military exercise in Russia this year, which will involve the member states of the Shanghai Cooperation Organization (SCO). (The organization comprises China, Russia, Kazakhstan, Kyrgyzstan, Tajikistan and Uzbekistan).
Meanwhile, as part of the Year of China in Russia program, a number of military exchanges between the two countries are under planning, including the scheduled visit of Chinese naval vessels to Russia.
In 2005, Chinese and Russian armed forces held their first ever strategic-level joint operational exercise.
Since 2002, the PLA has conducted several bilateral or multilateral anti-terror exercises with the armed forces of SCO members. Also, it has conducted bilateral joint land or maritime exercises respectively with Pakistan, India and Thailand, and joint maritime search & rescue exercises with Britain, France, Australia, the United states, etc.
These exercises not only increase the ability of cooperation among the armed forces involved, but also effectively deter international terrorist forces, and facilitate international efforts to counter terror.
Q: What does the PLA's foreign exchange program look like this year?
A: This year, the PLA will further expand exchanges and cooperation with friendly forces. We are happy to continue the high-level visits with the US military, actively expand common interests and cooperation, and build upon stable development of the mil-to-mil relations.
Last year, leaders of the Chinese and US militaries exchanged visits; the two navies conducted mutual visits and held joint exercises, which drew wide attention from the international community.
Meanwhile, the PLA will make efforts to promote military exchanges with the European Union countries, actively strengthen friendly cooperation with the armed forces of China's neighbors and developing countries, in a bid to maintain security and stability near and beyond its borders and world peace.
So far, China has forged military relations with more than 150 countries and set up military attach offices in 107 countries. And 85 countries also have their military attach offices in China.
In order to enhance communication and mutual trust, China has been also actively involved in defense and security consultations and talks with other countries.
So far, China has established such talks with the US, Russia, Britain, France, Japan and Australia and the talks continue to expand to include such countries as Pakistan, Mongolia, Thailand, Vietnam, the Philippines, South Africa, Italy, etc.
Face-to-face communication and direct dialogue widen channels of communication for mutual trust thus playing an important role in deepening mutual understanding and promoting cooperation.
Q: China is playing an increasingly important role in international peacekeeping. Could you brief us about the PLA's peacekeeping efforts?
A: Since 1990, the PLA has taken an active part in peacekeeping operations under the UN auspices. So far, over 6,000 PLA person/times have served in 15 peacekeeping missions.
Out of the five permanent members of the UN Security Council, China contributes the largest number of peacekeepers. China has contributed so much to world peace and stability that a total of eight officers and soldiers gave their lives in peacekeeping duties, and dozens of others were injured.
Peaceful development and harmonious co-existence of mankind requires that military forces assume their due responsibilities in international relief efforts.
The PLA has provided emergency aid 10 times to 14 disaster-stricken countries. Such contributions reflect the will and commitment of the Chinese government and armed forces to engage in international relief efforts, which therefore has won extensive recognition of the international community.
(China Daily 02/02/2007 page12)