'PLA making great efforts to be more open'
Editor's note: China's military development has increasingly drawn attention worldwide. Putting the issue in perspective, Lieutenant-General Zhang Qinsheng, deputy chief of the General Staff of the People's Liberation Army (PLA), talks to China Daily's Sun Shangwu about the PLA's modernization drive and foreign exchanges. The following is the full text of the interview: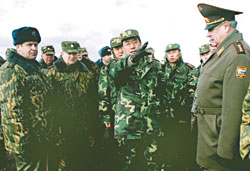 Lieutenant-General Zhang Qinsheng (center) talks to Russian army officers in October last year while preparing for a joint military exercise among members of the Shanghai Cooperation Organization. This year's exercise will be held in Russia. File photo
Q: Could you comment on the PLA's modernization efforts to which the international community pays close attention?
A: The PLA is actively pushing forward its modernization process, which focuses on enhancing its capabilities in an information age. However, the PLA shall never engage in an arms race, nor threaten any country.

Today's Top News
Editor's picks
Most Viewed