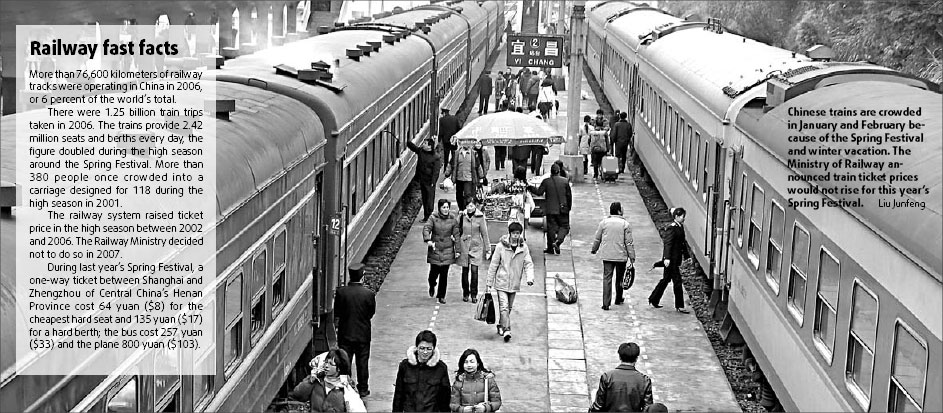 Hao Jinsong was never fond of catching trains but he has travelled by train many times over the past three years because of his passion for justice. Hao has launched a legal fight against China's train authorities, asking them to provide invoices for goods and services and also urging them to stop raising ticket prices.
In China, invoices are sales documents with tax authorities' stamps. But on his train journeys, Hao only received receipts stamped by train authorities.
"Although the matter (of a small invoice) is quite small, it could be an indication that the trains are evading taxation," said Hao, who is a graduate from the China University of Politics and Laws based in Beijing.
"Using legal weapons to request the small invoice means a clear awareness to safeguard the due rights of civilians," he told China Daily.
Fighting the law
Hao has launched eight lawsuits since 2004 against government departments including the Ministry of Railways and the State Administration of Taxation. He has won two, lost six, and is waiting for the ruling on his recent appeal regarding ticket price rises. Despite being a veteran in launching lawsuits against government agencies, Hao is still not a lawyer.
"I do not want to become a lawyer," he said. "I want the public to understand that even a lawsuit against a strong government department can be dealt, and even won, without the aid of a lawyer.
"This will encourage common people to take up legal weapons to maintain their rights."
Born in Dingxiang County, North China's Shanxi Province, Hao graduated from a junior college majoring in chemistry in 1994 and worked at a bank in Taiyuan, capital city of Shanxi. Hao obtained a law degree in his spare time and in 2004, resigned from the bank and entered the China University of Politics and Laws. Hao plans to pursue doctoral studies and seek a teaching position. But academic career is only part of his life.
He said although there was increasing legal protection of public rights in China, many people were still unaware of the laws. Hao wants to change the situation by launching lawsuits for public welfare. His target? Railway departments.
Hao said the railway system was the strongest monopoly in China. "If I, a common citizen, can check the unreasonable behavior of the railway department in courts, China's rule of law will be greatly promoted."
In September 2004, Hao sued Beijing Subway Company for not offering invoice for the 0.5 yuan (6.3 US cents) fee it charges for toilets in subway Line 1.
Chinese laws stipulate that goods or service providers must offer invoices if requested by consumers.
The toilets on the Line-2 platform were free, but the later completed Line-1 installed high-cost toilets.
Hao said the user-pay toilets trampled on the constitutional principle of legal equality. Passengers should enjoy the same rights in Line-1 and Line-2, he said. But Hao decided not to sue over the fee-charging issue, instead he focused on invoices.
Constitutional rights
Four months later, Hao won the lawsuit in a Beijing court, obtaining two 0.5-yuan invoices. In September 2004, he went on to take Beijing Bureau of Railways to court over the lack of invoices on goods sold on trains.
When he submitted the suit to the Beijing Intermediary Railway Court, the Beijing railway bureau said it had such invoices, which could be exchanged with the receipts given to Hao, and "there was no evidence to prove Hao had tried to exchange the receipts for invoices".
Hao lost the first trial and also the appeal, but was not frustrated. He learned the Railway Ministry ordered invoices to be provided on all trains. "This is an example that the legal fight of common citizens can urge authorities to change," he said.
Last April, Hao sued the Railway Ministry over raising train ticket prices during the Spring Festival high season without organizing a public hearing.
The Ministry replied that in 2002, it organized a public hearing, and its ticket price rises during the high season was in accordance with a document of the National Development and Reform Commission (NDRC), which allowed a 15 percent rise. But Hao maintained, that it did not mean the railway must adopt the price hike without public hearing. "More importantly, I want to highlight the crucial role of the public hearing," he said.
In December, Hao lost the first trial and is appealing for a re-hearing.
Hao wrote a public letter on January 5 to the Railway Minister Liu Zhijun, appealing to stop the train ticket price rise in this year.
He organized 120 student and lawyer volunteers across China. If the price hike remained, each of them would separately sue the ministry for not holding a pubic hearing in different courts of different cities, said Hao.
In a move that went beyond his expectations, the Railway Ministry decided on January 10 to stop price hike this year.
During a media interview, the ministry's spokesperson said the decision had no direct link with Hao.
Hao said he would continue his fight for citizen's rights. "Besides fighting in courts, I hope to maintain the public rights through the People's Congress," Hao said.
Last November, Hao was recommended as a candidate for delegate to the Haidian District's People Congress and actively competed with other candidates, including the vice-president of his university and the president of a nearby technical college.
The vice-president of his university won. However, Hao obtained the second largest group of votes.
"It is true that each of us is not the decisive force behind government decisions, but each of us has the constitutional right to supervise the government departments and civil servants, and this is the final power for issues like train tickets," said Hao, proudly.
(China Daily 01/31/2007 page20)