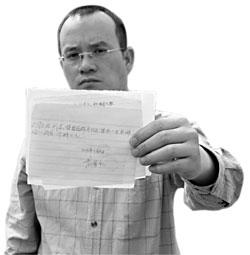 Hao Jinsong sues the railway authorities for not giving an invoice.
Courtesy of Hao Jinsong
May 2004 Hao reported to the State Taxation Administration that the Beijing Railway Bureau is suspected of evading taxes because it did not offer invoices to goods sold in trains. Without receiving the treatment result of the administration, Hao sued it in August in Beijing intermediary court but the litigation was not accepted.
September 2004 Hao Jinsong sued Beijing Subway Company in Xicheng District Court for not providing invoices for toilet service fees. He won the lawsuit and the court ruled the company to offer Hao invoices valued at 1 yuan (12.5 US cents).
September to December 2004 Hao sued Beijing, Shijiazhuang and Taiyuan bureaus of railways because their trains did not offer invoice for goods. He lost the first and second trials of the lawsuit against Beijing railway bureau and his other two litigations were not accepted by the Beijing Railway Court because it was out of its jurisdiction.
February 2006 Hao again sued Beijing Bureau of Railways in the Beijing Intermediary Railway Court that its N275 train from Beijing to Taiyuan, Shanxi Province, did not offer invoice for goods he bought in the train. In June, Hao won the case.
April 2006 Hao sued the railway ministry on raising train ticket price without organizing public hearing. In December, he lost the first trial and is appealing for a rehearing.
(China Daily 01/31/2007 page20)