Mantovani magic cascades through
Though this is the second time the Mantovani Orchestra tours China, the renowned orchestra will give its first public concert in China at the Great Hall of the People in Beijing on February 7.
In 1996, Mantovani Orchestra visited China as a cultural envoy together with then Italian President Oscar Luigi Scalfaro. The orchestra performed in Beijing, Shanghai and Guangzhou.
Only a few Chinese people have been to their live performances so far, but those who have listened to their recordings are innumerable in China. One of the first Western orchestras broadcasted on the Chinese radio after the "cultural revolution" (1966-76) and one of the most-broadcasted orchestras in China, Mantovani has enjoyed high popularity among the Chinese audiences since the 1980s.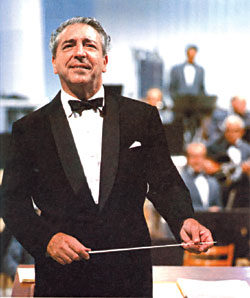 Annunzio Paolo Mantovani performs with his orchestra in 1960s. File photo
The former China Light Music Ensemble was born in 1986 with reference to the forms of Mantovani Orchestra.
"When the music of Mantovani Orchestra entered the cultural lives of Chinese people in the 1980s, it enlightened us that classical music could be interpreted in such a way," said Li Guyi, first chairperson of the former China Light Music Ensemble, which was combined into the China Song and Dance Ensemble in 1996.
"The music of Mantovani Orchestra is a bridge between classical music and common audiences," said Li, a renowned singer who enjoyed immense popularity in the 1980s.
Jin Zhaojun, secretary-general of the China Light Music Association, said the Mantovani Orchestra introduced Chinese audiences into Western classical music and influenced the development of pop music in China around 1980, when the cultural lives of Chinese people were still monotonous.
Venice-born Annunzio Paolo Mantovani began conducting in 1925. He pursued a career as a concert violinist in England and achieved considerable success. In 1931 he abandoned the soloist's career in favor of conducting.
In 1937, Columbia Records billed the performers as Mantovani and His Orchestra, and the name has been used ever since. In 1951, Mantovani, with the aid of arranger and former accordionist in his orchestra Ronald Binge, fashioned the orchestra's unique sonic character that is often likened to the "cascading strings".
After 1973, Mantovani's popularity declined, but he remained active for several years in composition. He died on March 30, 1980. His recordings continued to be reissued after his death, especially with a later resurgence of interest in his work.
Conducted by Maestro Charles Ronald Ellis, the Mantovani Orchestra will play in Beijing a program that consists of their renditions of classical pieces, jazz, folk music and original numbers, like Suppe's Light Cavalry Overture, Gerschwin's Embraceable You, traditional Spanish melody Malaguena and Mantovani's Elizabethan Serenade.
During their China tour, Mantovani Orchestra will also perform in Wuhan, Guangzhou, Shenzhen and Shanghai.
(China Daily 01/30/2007 page19)
Today's Top News
Editor's picks
Most Viewed