The Democratic People's Republic of Korea (DPRK) hinted at flexibility in its position on the Six-Party Talks yesterday, raising hopes that a new round of negotiations aimed at dismantling its nuclear weapons program could make headway.
The DPRK's chief negotiator, Kim Kye-gwan, dropped the hint in Beijing where he was meeting with Chinese counterpart Wu Dawei and Republic of Korea (ROK) envoy Chun Yung-woo.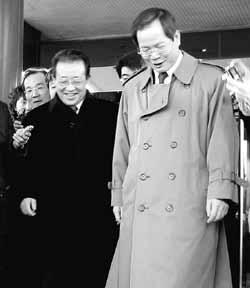 ROK chief negotiator Chun Yung-woo (right) and DPRK negotiator for the Six-Party Talks Kim Kye-gwan leave a meeting in Beijing yesterday. AFP
"Everything can change," Kim told reporters after meeting Chun, when asked if there has been any change in the DPRK's position. He did not elaborate.
The last round of the talks, aimed at denuclearizing the Korean peninsula and involving the DRPK, ROK, China, the United States, Japan and Russia, ended inconclusively in Beijing December, but three days of meetings in Berlin last week between Kim and Washington's envoy, Christopher Hill, have raised hopes of a breakthrough.
Another session of negotiations, which have continued off and on since 2003, is expected to be announced soon.
"We and the DPRK agreed on resuming (the talks) in a few days, but the positions of the other countries involved need to be checked so there is no confirmation yet," the ROK's Yonhap news agency quoted Chun as saying.
Chinese Foreign Ministry spokesman Liu Jianchao said yesterday no date has been set yet for another round of talks.
All the countries involved in the talks have agreed to restart the negotiations as soon as possible, but the date for resumption has yet to be fixed, Liu told reporters.
Japan's chief delegate to the talks Kenichiro Sasae will also arrive in Beijing today to discuss the issue with China's chief negotiator Wu.
"We believe these meetings and talks are good for the next phase of the Six-Party Talks," said Liu. "The relevant parties are hoping for an early resumption of the talks."
China has already begun preparing for the next round, he said.
Liu said China hoped for progress on implementing a September 2005 joint statement, in which Pyongyang pledged to give up its nuclear program in exchange for security guarantees and economic aid.
"We hope related parties can reach a consensus on the actions to be taken to implement the joint statement, and gradually set up a mechanism for implementing it and lay out a timetable for concrete measures," he said.
China Daily-Agencies
(China Daily 01/24/2007 page2)