Bio-pesticide inhabits Xinjiang grassland
(CRIENGLISH.com)
Updated: 2008-06-16 11:01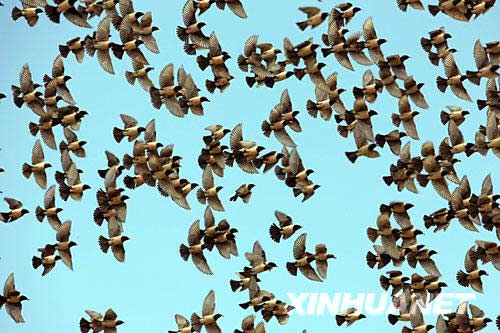 A flock of rosy starlings fly over grasslands in northwest China's Xinjiang Uygur Autonomous Region on June 12, 2008. [Photo: Xinhua]
A battle between grasshoppers and rosy starlings is going on this summer on grasslands in northwest China's Xinjiang Uygur Autonomous Region.
Rosy starling, a passerine bird feeding on grasshoppers, is under grade two national-level protection. They are now being used on grasslands as bio-pesticides to replace the traditional chemical ones.
A rosy starling can eat some 120 to 180 grasshoppers per day. Together with chickens and ducks, the bird contributes a lot to their new habitat.

1
2