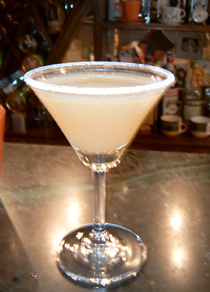 Gong He Bar is red: red couches, red gauze curtains. If Robert Palmer's "Addicted to Love" transmogrified into a bar, Red House is what that lipstick and swaying would become.
Though the owners do not know Lord Palmer, they do know how to coalesce dozens of red sofas and armchairs with tasteful polyphony in a fantastically large minimal space of concrete floors and white walls, which could just as well suit an art gallery.
Live jazz and variegated lighting heighten a sense of dynamic simplicity. The menu is a photocopy of the Republic's, so patrons can count on those 15 yuan Tsingtao draughts and 25 yuan Mojitos. More in line with the crimson decor and the Miles Davis mood, however, are the Shanghai cocktail (20 yuan) and Bloody Mary (20 yuan). Drink what you may, the modern beatnik will love lounging back on the red upholstery, gazing at an eclectic crowd and wondering which one of the women is most addicted to love.
Red House
Tel: 135-8163-0000
Add: 116 Nanluo Guxiang