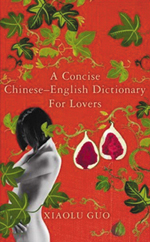 The English language in Guo Xiaolu's novel A Concise Chinese-English Dictionary for Lovers is so important that it takes on the role of a plot device and almost a character itself. Zhuang, a naive Chinese girl sent to London by her parents to study English, arrives with limited English ability, as clearly illustrated by the dense Chinglish of the first chapters. As the narrative progresses, so does Zhuang's ability to comment on the environment around her, all of which she records in her diary.
Apart from linguistic challenges, Zhuang finds it hard to come to grips with the beguiling metropolis of London and the peculiarities of the British, constantly checking her dictionary to interpret the world around her. The mild misadventures described will endear Zhuang to the reader, but the trouble she encounters with language is frustratingly stereotypical; the use of an "l" instead of an "r" and the ubiquitous present progressive tense seem more like a foreigner's painful imitation of pidgin than anything authentic.
After her first few months in London, a chance encounter with a fortysomething drifter leads Zhuang to the first meaningful romantic relationship of her life. Guo attempts to characterize the male character (referred to only as "you") as a pained artist who is unable to settle down, but despite acting as a force for development in Zhuang's life, he comes across as little more than a self-obsessed starving artist with few redeeming qualities.
Despite its weaknesses, the crowning achievement in this curious book is its ability to make the plight of Zhuang universal, and it will have specific appeal to anyone trying to come to grips with a language, city or lover from a different culture.